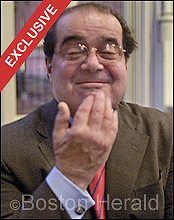 Antonin Scalia is dead, and the world is a better place. He was a wretch of a human being, and I don't even want to pretend I am anything less than giddy at his passing. If there is a hell, may he rot for eternity next to Andrew Breitbart, and may he be taunted for eternity by the ghosts of the people he helped sentence to death.
"There is no basis in text, tradition, or even in contemporary practice (if that were enough), for finding in the Constitution a right to demand judicial consideration of newly discovered evidence of innocence brought forward after conviction."

"My concern is that in making life easier for ourselves we not appear to make it harder for the lower federal courts, imposing upon them the burden of regularly analyzing newly-discovered-evidence-of-innocence claims in capital cases (in which event such federal claims, it can confidently be predicted, will become routine and even repetitive)." – Antonin Scalia)
He was a horrible human being who seemed to almost take joy in handing down rulings that punished those already under the boot. He was racist:
"There are – there are those who contend that it does not benefit African Americans to ­­ to get them into the University of Texas where they do not do well, as opposed to having them go to a less­-advanced school, a less – a slower-track school where they do well.

"One of – one of the briefs pointed out that – that most of the – most of the black scientists in this country don't come from schools like the University of Texas. They come from lesser schools where they do not feel that they're – that they're being pushed ahead in – in classes that are too ­­ too fast for them."
He was a homophobe:
The Supreme Court's decisions protecting gay rights were not rooted in the Constitution, and their logic could as easily apply to child molesters, Justice Antonin Scalia told a room filled with first-year law students at Georgetown University on Monday.

"What minorities deserve protection?" he asked. "What? It's up to me to identify deserving minorities?"

He said those decisions should generally be made by the democratic process rather than by judges.

He also allowed that the First Amendment protects political and religious minorities but suggested that there was no principled way for courts to make further distinctions based on the text of the Constitution. "What about pederasts?" he asked. "What about child abusers?"

"This is a deserving minority," he said sarcastically. "Nobody loves them."
In my recollection, his only positive attributes were occasional support for the 1st and 4th amendment. But he was a horrible person, whatever his intellect, and it is worth noting that the VERY LAST thing Scalia was planning to do was to go on a hunting trip today, no doubt a canned hunt, to kill defenseless animals for sports.
In his death, he will do us one final favor- to further demonstrate how phony originalism is, as right-wing Constitution fetishists spend the next couple weeks just flat out making shit up on how a Supreme Court Justice is appointed, as they attempt to come up with a way to deny Obama the right to appoint a justice this year.
Fuck him.