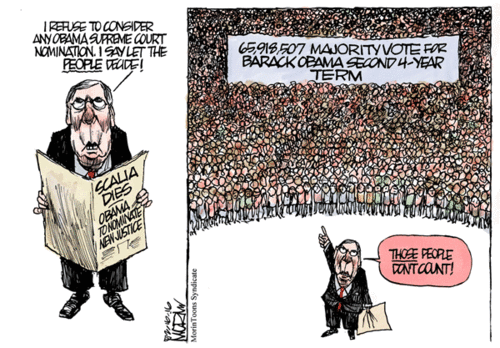 From the Washington Post, "Battle over Scalia's replacement already spilling into Senate races":
… One consideration that may force Republicans to recalibrate their strategy is the prospect of political damage to some of the embattled Senate incumbents up for reelection this fall. Sens. Kelly Ayotte (N.H.), Ron Johnson (Wis.) and Rob Portman (Ohio), all Republicans in swing states, have called for the Senate to disregard any Obama nominee. Other Republicans in tight races have remained silent so far…

Americans United for Change, a group closely allied with the White House, is trumpeting an article written by now-Senate Majority Leader Mitch McConnell (R-Ky.) in 1970. McConnell wrote that "the Senate should discount the philosophy of the nominee" and that "the president is presumably elected by the people to carry out a program and altering the ideological direction of the Supreme Court would seem to be a perfectly legitimate part of a presidential platform."…
Wait a second – am I now allowed to argue that Senators up for reelection this year are lame ducks who don't deserve a vote on SCOTUS nom?

— Addisu Demissie (@ASDem) February 14, 2016
Gawker has collected a potpourri of "The [Scalia Murder] Conspiracy Theories, Explained" — ranging from the obvious (President Obama's minions) to the tabloid (recalling Nelson Rockefeller) to the… well, that chupacabra tweet was probably tongue-in-cheek. I hope.
@nickconfessore Have Republicans considered the scenario where they delay confirmation and President Clinton nominates Obama?

— John Hofland (@jdhofland) February 14, 2016
Things I did not know: Michael Dukakis was Scalia's law school classmate. Man was a revanchist pest, even then…
… I didn't know who Scalia was until the last semester of my last year, when I took a class called Federal Courts and the Federal System, with a great man named Henry Hart. It is 1960. We are in the middle of the civil rights revolution. And there's this guy in class who begins engaging Professor Hart every day in these long dialogues over whether it was appropriate for federal judges to reach in and take cases away from Southern criminal courts, in cases where, as everyone knew, if you were a black defendant, forget it. And this went on for about three weeks. [Laughs.] I finally turned to the guy next to me and said, "Who the hell is that guy." He said, "That's Scalia, he's on the law review." And I said, "Does he know what it's like to be black in the South?" A bright guy—yeah. But he was to the right of Marie Antoinette for Christ's sake. There was no consistency in his so-called philosophy…
Golden oldie…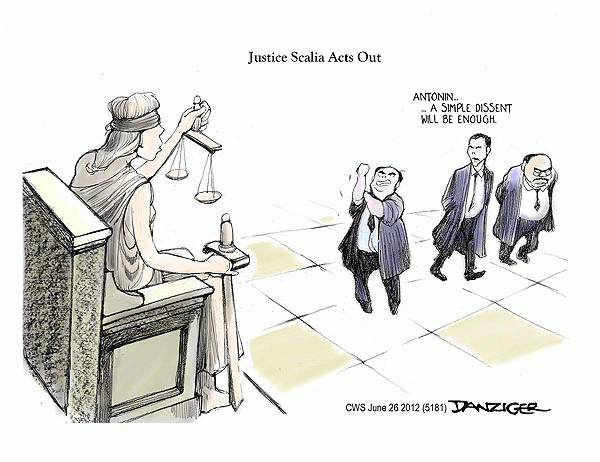 Media Village Idiot, moldy…
Is there any doubt who the "mainstream" media will side w/ on the dispute over whether @BarackObama should get to pick Scalia replacement?

— Mark Halperin (@MarkHalperin) February 14, 2016
It's weird because Ted Cruz made such a compelling legal case, citing Unicorn v Rainbow. https://t.co/FwJmdqPdRh

— Bob Schooley (@Rschooley) February 14, 2016
@pourmecoffee @MarkHalperin Mark! Check out Article II, Section 2, Clause 2 of our Constitution explaining the nominations process.

— ParagonOfBubblewick (@TheeErin) February 14, 2016
.@MarkHalperin @BarackObama I'll confirm your suspicions on the grounds that he doesn't "get" to do it; it's his constitutional obligation.

— Jesse Wegman (@jessewegman) February 14, 2016
@MarkHalperin @BarackObama Wait… how are you not mainstream?

— Celeste Headlee (@CelesteHeadlee) February 14, 2016