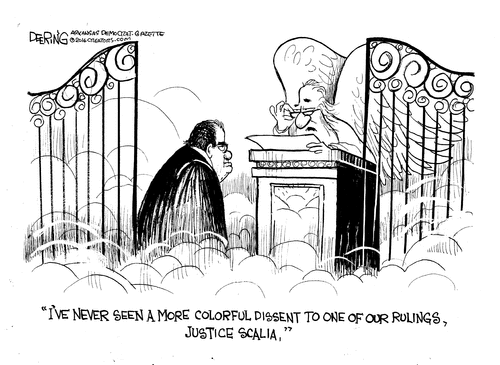 From Professor Krugman's blog, "My Unicorn Problem":
It has been an interesting few months on the progressive side of the political debate, and I mean that in the worst way…

First of all, to say what should be but sometimes apparently isn't obvious, what you would ideally want and what you think can be achieved — and even what you think should be an election platform — aren't the same thing. What I and most of my wonk friends would like to see is what the late Robert Heilbroner used to call Slightly Imaginary Sweden — or these days, maybe Diversified Denmark. That is, a strong social safety net that protects everyone against avoidable misery, workers with substantial bargaining power, strong environmental policy; not an equalized society, not a Utopia, but someplace where basic decency is a fundamental principle.

But nothing like that is going to happen in America any time soon. If we're going to have any kind of radical change in the next few years and probably the next couple of decades, it will come from the right, not the left…

OK, so I'm not happy with magical unicorns as a campaign strategy. But I understand the problem, which is also the problem Clinton faces: among young people in particular, being a wet blanket is no way to be hugely popular. "No, we can't — at best, maybe a little" isn't all that inspiring to people who want uplift. Realistically, the slogan should actually be "They shall not pass", which actually could be inspiring. But that's probably for the general.

This poses an interesting problem for Clinton — who will, if nominated, be pretty good at portraying herself as the defender of Obama's achievements, but needs to get to that point. Can she try to match Sanders in uplift? Probably not, because it would be insincere and come off that way. She's a veteran of many years of partisan trench warfare, of personal vilification, of seeing how hard positive change is (and yes, some of that applies to me too, although not to remotely the same degree.) She's not going to be able to promise magic without being obviously false. Sanders, on the other hand, probably believes what he's saying; the rude awakening still lies ahead…

It's a rough time for progressives who don't believe in magic.
************
Apart from steeling ourselves, what's on the agenda for the day?