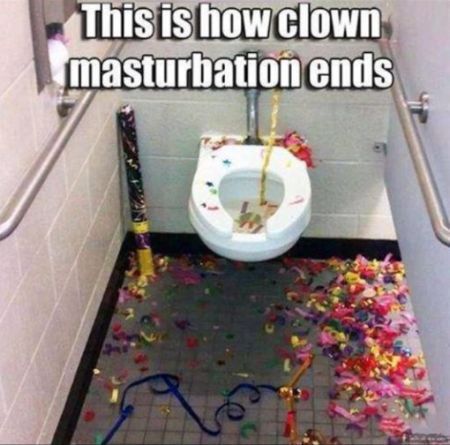 So while I was away from the computer today, the Republicans apparently decided to say fuck it, and are doing the legislative equivalent of YOLO. They've pulled down their pants down in public, are rubbing feces all over themselves, and doing a Burning Man tribal dance in front of the entire nation and world:
Senate Republican leaders, trying to slam shut any prospects for an election-year Supreme Court confirmation, said on Tuesday they would not even meet with President Obama's nominee to replace Justice Antonin Scalia. Senator Mitch McConnell of Kentucky, the majority leader, urged the president to reconsider even submitting a name.

At the same time, Senate Judiciary Committee Republicans issued a letter unanimously rejecting any confirmation hearings.

The actions of Senate Republican leaders and the committee of jurisdiction sent a clear signal to President Obama and wavering Republicans that their ranks would not crack. It also thrust the Senate into unprecedented territory; Senators meet with high-court nominees as matters of courtesy and cordiality, but even that tradition has been rejected.

Instead, Republican leaders vowed they would not even consider Mr. Obama's nominee regardless of his or her qualifications.
And you can forget about recess appointments:
Senate Republicans aren't going to take any chances that President Barack Obama might try to appoint a Supreme Court nominee to replace Justice Antonin Scalia while they're not looking.

Obama has the constitutional right to "fill up all vacancies that may happen during the recess of the Senate, by granting commissions which shall expire at the end of their next session" in what's known as a recess appointment. It's a controversial maneuver designed to bypass the Senate confirmation process, but Obama previously used it in 2012 to install long-delayed members of the National Labor Relations Board.

But Senate Majority Whip John Cornyn, R-Texas, said Monday that he doesn't expect the Senate to recess at all for the remainder of the year.

"I'd say it's safe to say we're going to do whatever it takes to make sure the president doesn't issue any recess appointments," Cornyn said.
There have been some, Kevin Drum, for example, who think that this has a lot to do with Robert Bork. This is the same excuse that is charitably rolled out by people who always seem to be blinded by the venality of the modern GOP. The Bork confirmation is blamed for the problems with all judicial nominations. It's blamed for the loss of bipartisanship in general. Every time these claims are trotted out, they are also a sideways attack on Ted Kennedy, but it is worth remembering what precisely Ted Kennedy said about Robert Bork:
Mr. Bork should also be rejected by the Senate because he stands for an extremist view of the Constitution and the role of the Supreme Court that would have placed him outside the mainstream of American constitutional jurisprudence in the 1960s, let alone the 1980s. He opposed the Public Accommodations Civil Rights Act of 1964. He opposed the one-man one-vote decision of the Supreme Court the same year. He has said that the First Amendment applies only to political speech, not literature or works of art or scientific expression.

Under the twin pressures of academic rejection and the prospect of Senate rejection, Mr. Bork subsequently retracted the most neanderthal of these views on civil rights and the first amendment. But his mind-set is no less ominous today.

Robert Bork's America is a land in which women would be forced into back-alley abortions, blacks would sit at segregated lunch counters, rogue police could break down citizens' doors in midnight raids, schoolchildren could not be taught about evolution, writers and artists would be censored at the whim of government, and the doors of the federal courts would be shut on the fingers of millions of citizens for whom the judiciary is often the only protector of the individual rights that are the heart of our democracy.
Save the segregated lunch counter (and that's only because it is a bridge too far even for our media, but not too far- google Trump + Muslim +Ban), everything Kennedy said about Bork is now enshrined within the mainstream of conservative thought and written in to the platforms of the GOP in many states for all to see. So no, this isn't about Bork. This is merely the next logical step in the progression of a sociopathic party.
Drum's fault is that he is a kind and decent man. I am not, and coupled with the fact that I was inside the belly of the beast for a long while, and I know how they think and act. I am unburdened by the blinders of good will, and have an easy formula for how I decide why and what the GOP is going to do in every situation. Merely imagine the dumbest, most venal, and most cynical self-serving immediate choice, add in a heap of racism and a little bit of Jesus, and you have whatever the Republicans will propose.
They aren't just doing this because they can, they are doing it because they are scared, and they are afraid, and they are losing, and they know it. They are doing this because they hate Obama. This is the same kind of impotent rage they had towards Clinton, who just whipped them every single time and smiled all the way through it, but this time it is worse because Obama is a black man and the country has changed. They are losing the demographic war, so all they have is the courts and the hope that their jury-rigged voting process can keep things in place just a little bit longer. They are doing this because they know they are weak going into the 2016 election, and have convinced themselves that if they all stand together, the American people aren't going to be able to pick out Kirk in Illinois or Toomey in PA or Johnson in Wisconsin or Portman in Ohio or Ayotte in NH and so on.
Just as serial killers ramp up the frequency and violence as their condition progresses, so do the sociopaths in Congress. It wasn't too long ago we were all shocked at someone yelling "You lie" during the State of the Union, but here we are. They are weak and they are desperate and things are only going to get worse. It's up to us to stop them.
Peak wingnut was a lie.