It's simply amazing to me that the media is sitting back and not pointing out to America that as the establishment GOP collectively loses their shit over Trump winning, they simultaneously are encouraging unprecedented obstruction of a Supreme Court appointment (although I still think they are going to fold). The latest public freak-out comes from the NRO, whose special edition anti-Trump issue a month ago probably netted Trump about 50 delegates:
It's Time for an Anti-Trump Manhattan Project

by Charles C. W. Cooke February 24, 2016 4:51 PM

For the last eight months or so, a significant portion of the Republican party's voters have been in thrall to a bizarre, Occupy-esque conspiracy theory, which holds as its central thesis that sabotage and pusillanimity are the root causes of the Right's recent woes. In this mistaken view, the conservative movement's failure to counter all of the Obama era's excesses is not the product of the crucial democratic and structural factors that prevent any one faction from ushering in substantial change, but of a lack of will or desire. Sure, the advocates of this view will concede, the shutdown of 2013 was doomed from the start, in large part because the public sided with President Obama. But if the GOP had just held out a little longer, they imagine, the "power of the purse" would have prevailed and the popular dynamics would magically have shifted. The same insistence obtains elsewhere: Sure, there is no precedent in which a second-term president willingly repeals his centerpiece legislative achievements simply because the legislature has elected to play hardball with its powers. But somehow, the critics believe, this time would have been different. Why, they ask repeatedly, didn't the Republican party just "fight" harder?

Given how broadly this opinion is held, one would have expected the 2016 primary season to reveal a penchant for purity that redounded to the favor of a candidate such as Ted Cruz. And yet, oddly enough, quite the opposite has happened thus far. Led by Donald Trump, the most frustrated voters have instead put their efforts behind a well-telegraphed attempt to burn down the whole political edifice and reconstruct it from scratch. Because it has been imperfect, the GOP must be destroyed.
Either they are too stupid to recognize it, or they don't want to take the blame, or some combination of both, but they built Trump. It was decades of these stupid mother fuckers shouting about Obama being a secret Muslim or Hillary murdered Vince Foster and Dan Burton shooting a fucking watermelon to prove it to another melon based theory about Mexicans having calves the size of cantaloupes and women wanting to abort babies for shits and giggles and sending rock salt to Olympia Snowe and claiming there is no global climate change because LOOK RIGHT FUCKING HERE I HAVE A SNOWBALL IN FEBRUARY or convincing America that welfare and food stamps only go to young bucks buying t-bone steaks or welfare queens with big screen tv's or that public transportation is totalitarianism or that the main cost cutting technique of health care reform will be Death Panels or that prison makes you gay or that man and dinosaurs lived together in harmony or that women can magically abort pregnancies created by rape or that scientists are genetically creating human/mice superbrains or that agribusiness is using aborted fetuses in soda or that if gay people marry pretty soon people will be marrying dogs or that Presidents Lincoln and Washington used electronic surveillance and actually writing, promoting, and believing a fucking book that said liberalism is fascism and running this person as a Vice Presidential candidate to claiming with no scientific evidence that vaccines cause autism.
My bad. That last one is a Democrat. Fuck you, Robert Kennedy, you fucking stain on our party and your family name.
But that list is real. I didn't make any of it up. And that's just a list of things they BELIEVE IN, and not a comprehensive list of the stupid shit they've actually done or the vile things they have said. That's just too depressing to actually tabulate.
So yeah, Mr. Cooke, while you are calling on a Manhattan Project to defeat Trump, maybe you should sit back and reflect on just how the fuck this train got so far off the rails. If this list isn't comprehensive enough, I've got another something that may convince you. Something that appeared just this fucking morning in your own god damned magazine: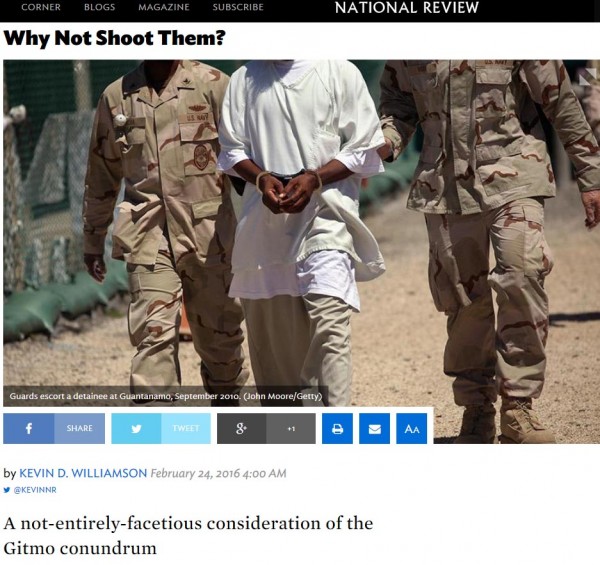 Fuck you, Charles Cooke, and every one out there like you. You made this fucking mess.
*** Update ***
Cooke responds.
@Johngcole Impressively dumb. Congratulations.

— Charles C. W. Cooke (@charlescwcooke) February 25, 2016