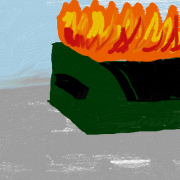 I missed most of the debate last night but saw a few clips this morning. The pundit consensus is that Rubio won, but they would say that. My favorite bit was when Trump insulted ghostly apparition Hugh Hewitt by noting that no one listens to his crappy radio show.
From what I saw, nothing happened that will change voters' minds, so it looks like Trump is still poised to trounce his rivals in the upcoming primaries. I hope he kicks Rubio's ass in Florida.
But Rubio did do something useful during the debate: He showed that Trump is extremely touchy about his business record, which we've all known for months doesn't bear close scrutiny. Something for Hillary and Bernie to keep in mind.
Shifting gears: I can't believe it's Friday already. Got any big plans for the weekend? I may take another road trip to visit my old grandma.
Open thread!