I am very excited about the response to my request for submissions from authors in our midst. If you missed it, here are the first and second installments. There was enough of a response that I think I'll do two authors in each post, for variety – if one genre doesn't appeal to you, another might. I'll probably post twice a month, more if I have time.
I've asked the authors to chime in, in the comments, to give a bit of their journey, how they came to write their works, what inspires them. I hope you'll play along and ask them questions. Think of it as your very own writer's workshop/author meet and greet.
First up: Jill Kearney, The Dog Thief (available here)*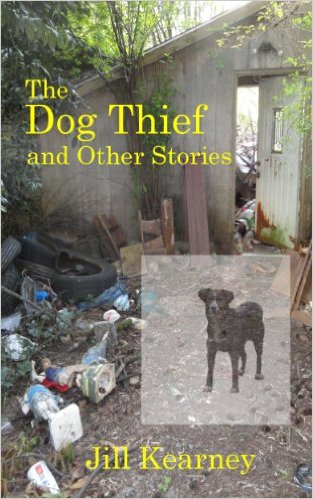 This book seriously sounds like it could be a Balloon-Juicer's favorite: 
This collection of related short stories on the themes of death, loss, and memory features a crazy cat lady, an enclave of aging bikers, and people who sneak around in the dark caring for neglected dogs. The writing style is spare, realistic and evocative.
It has some impressive reviews, too:
Kearney's impoverished, misfit, outcast characters live mainly on the fictional Sebequet Peninsula, which features a Native American reservation, ramshackle trailer parks and plywood cabins surrounded by trash and rusting metal. In this zone of squalor and despair, people's connections with animals are, for many, their only links to life.

In the story "Sparrows," a disabled man and his meth-head sister precariously prop each other up but find a stabilizing influence when they take in a maimed pit bull. In "Beverley and Jim," a raucous old woman, stricken with multiple sclerosis and alcoholism, lives in a caved-in trailer with a herd of cats. An exasperated neighbor helps her out only to realize her importance in his life too late. In the engrossing title story, members of the Sebequet community—including a pot-dealing commune, an animal-control officer and a busybody city transplant who runs a local resort—work out their mutual responsibilities by helping a household full of abused dogs.

The Sebequet-based stories are remarkable for their understated, yet vivid, realism and their pitch-perfect rendering of the hard-bitten poverty and frayed social fabric of rural America (read more here)
====
Next up: Vicki Delany (a serious B-J lurker), Unreasonable Doubt (found here)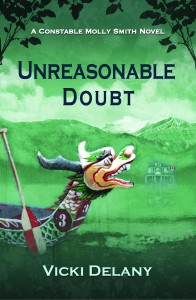 I'm not sure where to start with Vicki "One Woman Crime Wave" Delany, so let me let her give you some highlights (and then you can be in awe as I am):
I am Canadian, live in Price Edward County, Ontario, and I am the author of (so far) 21 crime novels. I write the Constable Molly Smith series of police procedurals set in British Columbia, the Klondike Gold Rush series, and standalone novels of suspense.  I also write the very cozy Year Round Christmas mysteries from Penguin Random House, and under the pen name of Eva Gates, the Lighthouse Library cozy series also for Penguin. (more about Vicki here)
Well, I feel like a slacker now. Here's a little bit about the featured novel:
After a two year break, Constable Molly Smith, Sergeant John Winters and the rest of the residents of Trafalgar, B.C. are back. Unreasonable Doubt is the eighth book in the popular series.

Twenty-five years ago, Walter Desmond was sentenced to life in prison for the brutal murder of young Sophia D'Angelo in Trafalgar, British Columbia. For twenty- five years, Walt steadfastly maintained his innocence.

Now he's out of prison, exonerated by new evidence that shows corruption at worst or sheer incompetence at best, on the part of the Trafalgar City Police.  And he's back in Trafalgar.

Tensions are running high in the small mountain town.  Tension between those who believe an innocent man was convicted and those who maintain the police got the right man. Surrounded by supporters, Sophia's bitter family is determined to see Walter back in prison. Or dead.  But it's mid-summer in Trafalgar and women's dragon boat teams are in town. At the B&B Walt Desmond meets lonely widow Carolanne Fraser, and Walt decides he might have reason to stay.

…if Walt Desmond didn't kill Sophia Angelo, someone else did. (read more here)
Okay, I've done my part, you guys hit the comments with questions for the authors or just talk about your favorite books and genres.
I'm still happy to take submissions, info on that here (and if you've submitted and didn't receive a reply from me, it means I did not receive it, try again).
*FYI, for the Amazon links, I've used the Balloon-Juice donation link.