The US Attorney's Office in Nevada has announced charges for fourteen additional individuals in the Bundy Ranch Standoff of 2014 in Bunkerville, Nevada (h/t HGTomato). Twelve of the fourteen were taken in to custody earlier today, two – Blaine Cooper and Brian D. Cavalier were arrested last month and are already in custody.
The twelve individuals who were arrested today are: Melvin D. Bundy, 41, of Round Mountain, Nev., David H. Bundy, 39, of Delta, Utah, Gerald A. DeLemus, 61, of Rochester, N.H., Eric J. Parker, 32, of Hailey, Idaho, O. Scott Drexler, 44, of Challis, Idaho, Richard R. Lovelien, 52, of Westville, Okla., Steven A. Stewart, 36, of Hailey, Idaho, Todd C. Engel, 48, of Boundary County, Idaho, Gregory P. Burleson, 52, of Phoenix, Ariz., Joseph D. O'Shaughnessy, 43, of Cottonwood, Ariz., and Micah L. McGuire, 31, and Jason D. Woods, 30, both of Chandler, Ariz.
You'll notice on that list are two more of Cliven Bundy's sons: Mel and David Bundy. The other big names include Eric J. Parker, seen below in an overwatch sniper's position pointing his AR* pattern rifle at Federal law enforcement officers, and Jerry DeLemus.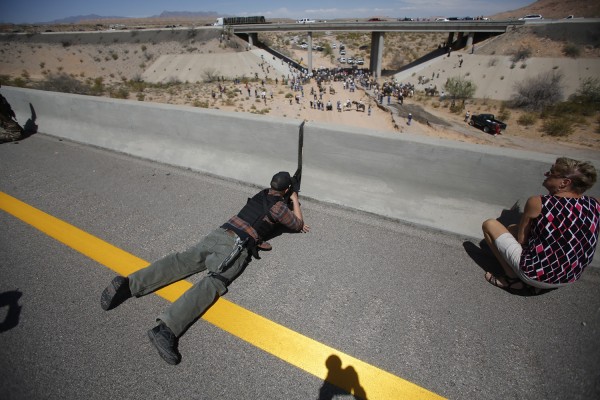 **
DeLemus is the retired Marine who has claimed to be the head of the militia/security at the Bundy Ranch Standoff. He is also a New Hampshire Tea Party activist and the co-chair of Veterans for Trump.
The charges, and their maximum penalties, are:
Conspiracy to Commit an Offense Against the United States – 5 years, $250,000 fine
Conspiracy to Impede and Injure a Federal Law Enforcement Officer – 6 years, $250,000 fine
Assault on a Federal Law Enforcement Officer – 20 years, $250,000 fine
Threatening a Federal Law Enforcement Officer – 10 years, $250,000 fine
Use and Carry of a Firearm in Relation to a Crime of Violence – 5 years minimum and consecutive
Obstruction of the Due Administration of Justice – 10 years, $250,000 fine
Interference with Interstate Commerce by Extortion – 20 years, $250,000 fine
Interstate Travel in Aid of Extortion – 20 years, $250,000 fine
* AR stands for Armalite, the company that first developed this style of semi-automatic rifle. It is unclear from this, or other pictures, if it is an AR 15 or an AR 10. The default chambering for the former is usually NATO 5.56/.223 Remington and for the latter is usually NATO 7.62/.308 Winchester.
** Image found at High Country News.