I admit it. I'm only posting this so I can use that title.
Mitt Romney did his blind pig act today, speaking truth, up to a point, to the looming power that is breaking the china at what should have been the dancing-horse-rider's-husband's party:
"If we Republicans choose Donald Trump as our nominee, the prospects for a safe and prosperous future are greatly diminished," Romney said in a nationally televised speech at the University of Utah…

"Dishonesty is Donald Trump's hallmark. He claimed that he had spoken clearly and boldly against going into Iraq. Wrong. He spoke in favor of invading Iraq. He said he saw thousands of Muslims in New Jersey celebrating 9/11. Wrong. He saw no such thing. He imagined it…He's not of the temperament of the kind of stable, thoughtful person we need as leader. His imagination must not be married to real power"

"Mr. Trump has changed his positions, not just over the years, but over the course of the campaign, and on the Ku Klux Klan, daily for three days in a row. We will only know if he's the real deal or a phony if he releases his tax returns and his tape of the interview with the New York Times. I predict there are more bomb shells in his tax returns," Romney said. "I predict he told The New York Times that his immigration talk is just that, talk."

[via TPM]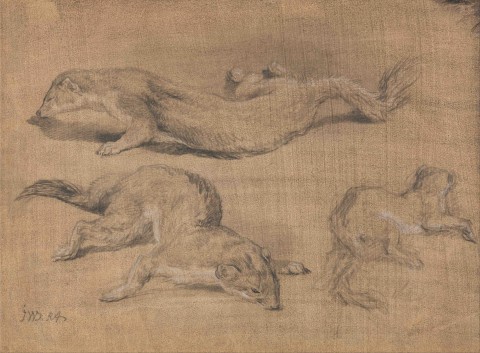 R-Money being who he is, the reason he gave for the urgency in stopping Trump was not for The Donald's sin of describing Republican views and gut-feelings accurately, but because it would ensure a Clinton presidency — and that family is, of course, simply too gauche, too nouveau for true representatives of better-established dishonest money to accept.
But thanks anyway, [former] Governor! Plenty of good stuff there for ads in the fall.
Or, as the man said:  please proceed.
Image:  James Ward, Ferrets, undated, before 1860.