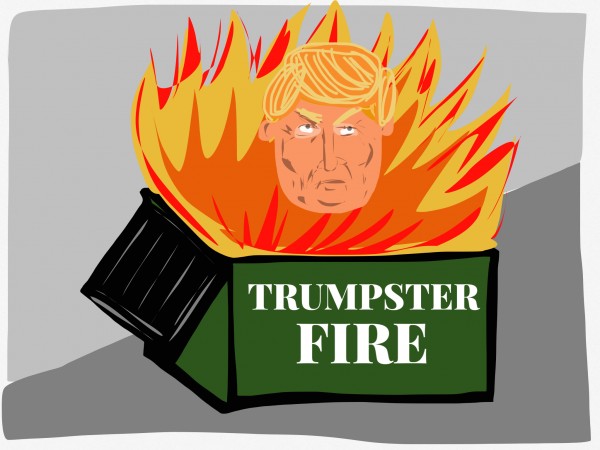 Connoisseurs of schadenfreude should head on over to NRO's Corner blog and take a gander at how the Trumpenproletariat in comments are feasting on the doughy entrails of Jonah and the gang. The author of "Liberal Fascism" is getting an object lesson in the real fucking deal these days, though he lacks the self-awareness to appreciate the irony.
If Goldberg and crew weren't the horrid people who ginned up the mob in the first place, pity might actually be possible, especially when these worthies attempt a timid assertion among their newly hostile audience, such as that it really shouldn't be so hard for Trump to immediately and unambiguously denounce the Klan.
It doesn't go well, even though Goldberg clears his throat by affirming that of course liberals are the real racists, but come one guys, can't we agree David Duke and the KKK are, you know, bad? And isn't it kinda terrible that Trump insults us conservatives by thinking we'd be offended if he denounced the Klan? Here's a few sample replies:
Anymore – blacks and browns are the majority of toxic racists in the US. America needs a lot less black and brown. America is traditionally a non-Mexicali, Non-Africali, non-Midestracali stronghold. Look – Black and brown people aren't as smart as white people by a mile – all the tests prove it.

So let me guess, the GOP establishment is going after trump because he won't disavow the KKK. I simply think the GOP Establishment is race bating Donald Trump to bring him down and it's not working. It may have worked in the past but this Donald Trump and none of the tactics that the GOP Establishment have, has NOT worked on Donald Trump and they are simply running out of options. Sooner or later the GOP establishment is going to have to wake up and realize that Trump is taking over the GOP and tossing the old guard to the curb.

I haven't decided who I will vote for in November but NR has convinced me of one thing. I will vote against whoever the NR endorses. A vote against NR is a vote for America. #NoMoreNR

You're making a fool of yourself, Jonah, as are all your NR friends.
It's all so amusing until you realize that when wingnuts work out their pathologies on the world stage, it has potentially horrendous consequences for all of us. Much as how the Bushes' daddy issues therapy sessions had such an appallingly high body count.
Anyhoo, against that backdrop, there's just not enough popcorn in the world for tonight's GOP debate. I know I've been saying I hope Trump dropkicks Lil' Marco from Detroit clear to a gator and python-infested swamp in the Everglades because — did I mention I despise that smarmy little jumped-up ex-Bushling creep?
But now I'm wondering if maybe the empire will strike back with limited success tonight, taking Trump down a peg or two, and whether that might be a good thing in the long run. I don't think we libs should underestimate Trump, but let's not make him 10 feet tall and bulletproof in our minds either.
Trump is a crass, thin-skinned carnival barking fraud, and even the vile Cruz and nonentity Rubio should be able to score a few points. So I'm rooting for maximum disarray and investing in popcorn futures. You?