A Cruz-Rubio tickets makes the most sense right now. Pair up, announce the deal, let Rubio win Florida, get to convention and make it so.

— Erick Erickson (@EWErickson) March 2, 2016
I enjoy homoerotic fan fiction as much as the next guy, but this requires too much suspension of disbelief. https://t.co/2MSIjFBS7I

— Jeet Heer (@HeerJeet) March 2, 2016
Only four on stage for tonight's GOP debate — Dr. Carson has decided against attending, despite (or because) it's being held in his hometown, Detroit. Another Fox News special, hyped as the rematch between Donald 'The Douchenozzle' Trump and Megyn 'Blood Coming Out of Her Wherever' Kelly.
I'd actually watch, if I thought there was a chance Chris Christie would show up as a stand-in for his new man-crush, prepared to once again body-slam Little Marco into sweaty submission…
***********
Apart from crappy theatricals, what's on the agenda for the day?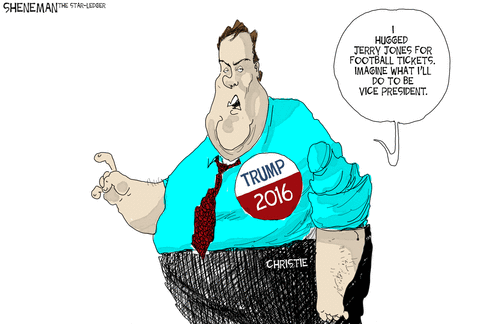 (Drew Sheneman via GoComics.com)