Not so very long ago I remember this guy, funny hair, blocky, ungainly posture, brash fantasist — a Noo Yawk equivalent of those our Texan friends describe as All Hat; No Cattle — infesting the green rooms and bloviator sets of Fox News, talking about President Obama's birthplace and demanding the infamous "Long Form Birth Certificate."
Well, we've got a new controversy now, a puzzle inside a riddle wrapped in an enigma:  can the Republican front runner boast masculine sufficiency — or is he a little leaguer, if you know what I mean, and I think you do.*
Given Donald Trump's distinguished record as a campaigner for truth and unvarnished, unequivocal, impossible-to-falsify empirical evidence on the matter of our current president's citizenship, there really is only one way forward.
Show us the long form!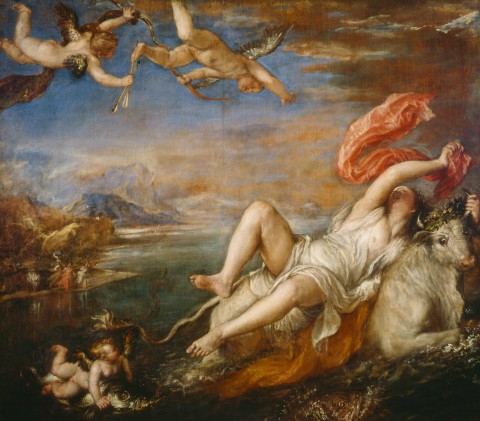 Or rather…please don't.  Not ever.
Or to put this another way:  perhaps the most remarkable thing about the GOP race this year is the way the Republicans have figured out a new and truly innovative way to kill American jobs.  After last night's debate, any market for political satirists is dead.  Imagine the writer's room at The Daily Show right now:  why bother with new copy when you can just revoice that transcript?
This thread?  It despairs of our democracy.  And it is open.
Image: Titian, The Rape of Europa, 1560-1562**
*With absolutely no offense intended to those young 'uns who actually, you know, swing small bats and run around bases.
**A local favorite — check it out at the Isabella Stewart Gardner Museum should you ever happen to have a moment in Our Faire Citie