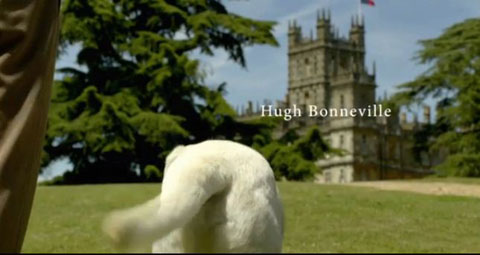 And so we must bid farewell to the furry posterior of the yellow lab Isis, preserved in the opening sequence of the show even after her character was killed off, possibly because of unfortunate associations with her name. Or maybe because she was about 200 in dog years, so she had to die.
Any predictions? I have none, but here are my hopes:
Lady Mary and Henry Talbot make each other's lives a living hell forever and ever.
Lady Edith returns to London, heartbroken about being jilted yet again. One night when she and her (female) editor are working late, they get drunk and start a torrid love affair. When Bertie Pelham comes crawling back, Lady Edith sends him packing with a tart, "Sod off, wanker!"
It comes out that Spratt and the Dowager Countess were co-authors of the lonely hearts column at Lady Edith's magazine.
Mrs. Patmore and Mr. Mason marry, and Mrs. Patmore gets to discover the "mysteries of life" for herself at last. They adopt Andy the footman as their son, thinking Daisy will marry Andy and work the land. But Daisy leaves Yorkshire to lead an anti-monarchist land reform movement. Andy marries a village girl, and Mrs. Patmore scolds, cajoles and bosses that poor woman around for the rest of her life.
Bates, Anna and their infant son are all three implicated in a murder. While there isn't sufficient evidence to arrest them, all three are periodically questioned by agents of Scotland Yard until the outbreak of World War II.
Molesley and Baxter marry and move to the village. Molesley eventually becomes headmaster of the village school. Baxter becomes a famous true crime novelist under a pseudonym, basing her stories on the monsters she's known in real life.
Mrs. Hughes learns to control Carson through gentle terror, and via her deft application of these skills ushers in a Golden Age of Happiness downstairs, which includes the hire of a smashingly handsome gay footman to replace Moseley.
The new footman falls for Barrow, who is transformed by domestic happiness. Barrow eventually becomes the new Carson, as devoted to Master George as the original Carson was, inexplicably, to Lady Mary.
I'm not sure what happens to Tom, Denker, Lady Cora or his Lordship. What do you think?