And we need something dogs and cats, Bernistas and Hillarions can all enjoy, check out this fine photograph, uncovered during the indulgence in one of my private vices — wicked cool aircraft stuff: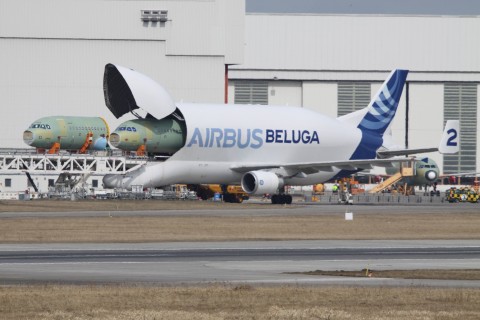 That's an Airbus A300-600ST, better known as the Beluga.  I tripped across this image while running down a rabbit hole opened by a video I'll pop up here soon.  It's far from the weirdest transport plane out there.  I'll have more of those soon too, whenever we need our own Taft-Smoot-Hartley cooling off period. [Per Burnspbesq's sadly (4 me) accurate correction]
For now…
Caption Contest!
And open thread, too.
ETA:  our comment-colleague Dollared has offered another image as a counterpart. Seems to me this is what happens when those sweet young nose sections get all grown up and nasty:  it's down to the river to smoke and drink :