While we're discussing the #NeverTrump fantasy, which hinges on cool, calm action by right-thinking Republicans under the sober leadership of revered party elder Mitt Romney, let's not forget the winner-take-all shituation faced by these late-to-the-party clowns. Florida (99 delegates), where Trump has a commanding lead over Rubio, and Ohio (66 delegates), where Kasich could eke out a victory but Trump is still ahead, are the winner-take-alls that fantasy league pundits are wanking about. But Illinois and Missouri also have big winner-take-all primaries on the same day, and look at the (admittedly thin) polling in Illinois: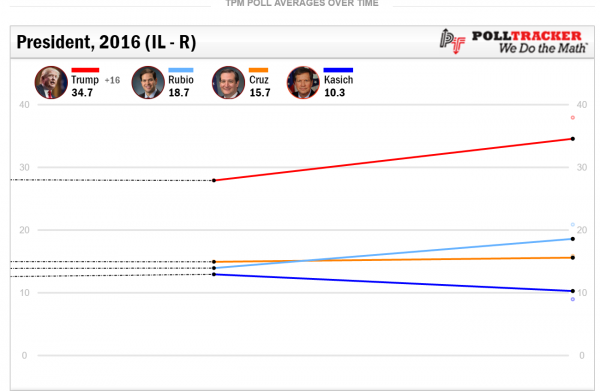 Missouri hasn't even been polled recently. So even if some miracle occurs and Rubio wins Florida (scoff), and Kasich wins Ohio, if Trump wins in Illinois and Missouri, he's still comfortably in the lead.
The math just doesn't work for #NeverTrump unless somehow the now-obvious fact that Trump's penis is micro rather than macro is going to sway Republican voters.
Update: As shortstop pointed out in the comments, Illinois is winner-take-all for statewide delegates, and some others are elected by Congressional District. Missouri is winner-take-all if the winner gets more than 50%, otherwise it is like Illinois. Jesus, could this be any more complicated? In other news, David Brooks says it's not too late to stop Trump, which is definitive evidence that it's too late.