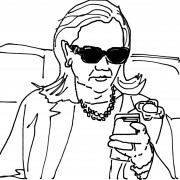 The great state of Florida holds its primary elections a week from today. I got a text from Team Hillary this afternoon asking about my plans to get to the polls (whether I'd be driving, walking, taking public transportation, etc.) and when I planned on voting.
When I responded, they said they'd remind me about driving to the polls on Tuesday morning. They also offered to help me find my polling place (no need; I already know it), and I'm guessing that if I'd said I was going to catch a ride with someone, they'd try to scare up a nearby volunteer if I ran into trouble with that plan. That's the kind of proactive strategy Team Obama had going on back in '08 and '12. Seems like a good sign.
Meanwhile, Team Bernie sent an invitation to a couple of local appearances by the candidate himself coming up toward the end of this week. I can't make it because I'll be working, but Bernie is definitely barnstorming Florida. Good for him! I've donated small sums to both campaigns, so I'm on both mailing lists. It'll be interesting to compare and contrast their GOTV activities as Tuesday approaches.
Open thread!