Earlier today the US Attorney's Office in Oregon issued superseding indictments for the 25 individuals that they had previously indicted in the occupation Malheur National Wildlife Refuge. Today's superseding indictment includes charges of damaging part of the refuge, specifically an archeological site sacred to the Burns Paiute Tribe. Also of interest is that there is a 26th name on this superseding indictment, however, it is currently redacted (blacked out). The superseding indictment can be found here or at the bottom of the post below the fold.
In other Bundy news, Ryan Bundy has informed the court that he will be representing himself. And a Federal Magistrate in Utah has ordered that David Bundy remain in custody and be transferred to Nevada where he has been indicted. Also, Jerry DeLemus has been denied bail and will also remain in custody. There is no word on when he will be transferred to Nevada.
As announced yesterday, Jeannette Finicum held a press conference regarding her husband's death earlier today. As expected Mrs. Finicum announced she intends to sue.
Finally, in regards to the ongoing investigation into the shooting of LaVoy Finicum, the DOJ Office of the Inspector General released a statement today.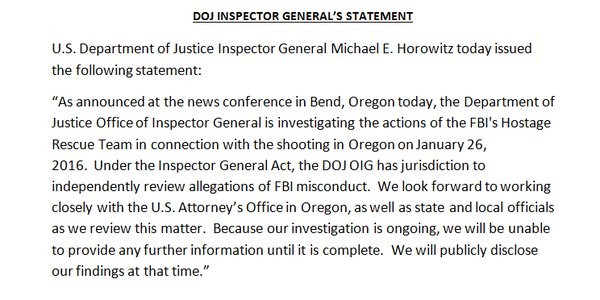 Oregon Public Broadcasting also has an interesting slideshow of some of the evidence that was evaluated in the Deschutes County Sheriff's Office Major Incident Team's investigation. These include not only diagrams, but the photo's of LaVoy Finicum's truck where it is clear that only four bullets impacted the vehicle: the three fired by the Oregon State Police and the one fired by the FBI HRT team member.
Finally, the written transcript of yesterday's press conference has been posted on the Deschutes County Sheriff's website.
The full superseding indictment is below the fold: