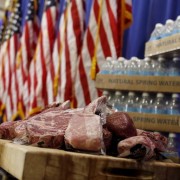 Did you see the Trump products infomercial last night? After winning the MS and MI primaries, Trump called another mock-press conference at one of his tacky properties, which was again done up to look like a White House briefing room, complete with a phalanx of flags behind the podium.
But instead of talking about his plans for the country, Trump delivered a rambling, incoherent paean to his own wealth, business acumen and general awesomeness and bullied and abused journalists who asked him questions. It was a truly bizarre display.
Many observers have noted the event's resemblance to a QVC segment because Trump aggressively touted his self-branded products throughout, even abandoning the podium at one point to go fetch a magazine to wave before the cameras and toss into the audience:
Trump attempted to portray each product as a going concern, but he appears to be lying or at best misleading people about some of them. As the staging crew was setting up the steak display, observers noticed that the steak packages were branded (ironically) "Bush Brothers." The water company and magazine seem to be small vanity businesses that supply Trump's own properties, not the public.
The winery is real enough; Trump drove a distressed property owner into foreclosure and picked up her award-winning vineyard for a fraction of its value. Then he gave it to one of his sons to run.
However, the products weren't the real commodity being hawked. The whole surreal production was a long-form rebuttal to Mitt Romney's recent denunciation of Trump as a fraud and failed businessman. Romney's criticism clearly got under Trump's paper-thin skin, prompting last night's display of overweening self-regard.
During the Democratic debate the other night, Hillary Clinton said, "I think Donald Trump's bigotry, his bullying, his bluster, are not going to wear well on the American people." I think she's right. Only the assembled lickspittles at the event and the very worst elements of the US population, i.e., the Republican Party base, could have found such a display attractive.
So Trump has telegraphed his weakness for all to see. He can't leave any criticism of his own all-important self unanswered, and now we know that the response will be to hold a public exhibition on the ravages of narcissistic personality disorder. It's shameful that such a character is on the verge of clinching the nomination of one of our two major parties, but here we are.