So apparently, Corey Lewandowski, Trump's campaign manager (his Martin Bormann), grabbed a Breitbart reporter named Michelle Fields and yanked her to the to the ground:
When Donald Trump descended into the crowd after speaking Tuesday night, the instinct to defend kicked in.

As security parted the masses to give him passage out of the chandelier-lit ballroom, Michelle Fields, a young reporter for Trump-friendly Breitbart News, pressed forward to ask the GOP front-runner a question. I watched as a man with short-cropped hair and a suit grabbed her arm and yanked her out of the way. He was Corey Lewandowski, Trump's 41-year-old campaign manager.

Fields stumbled. Finger-shaped bruises formed on her arm.

"I'm just a little spooked," she said, a tear streaming down her face. "No one has grabbed me like that before."

She took my arm and squeezed it hard. "I don't even want to do it as hard as he did," she said, "because it would hurt."
Unfortunately, there is no video of the account, so all we have are dueling narratives (mind you, I'm completely convinced this happened, but I am working towards a point, so bear with me), which means the Trump campaign can send out memos like this: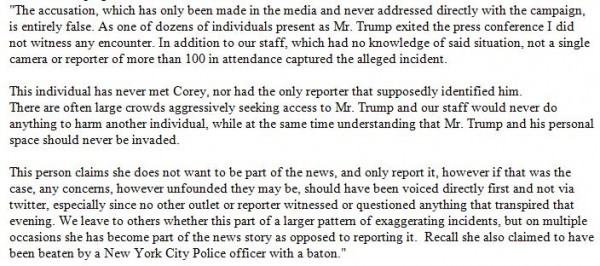 Not that the Beitbart crew or anyone will learn anything from this whatsoever, but this is an opportunity for what some in the bizness call experiental learning. This is what has happened to countless black and minority protesters every single day at Trump rallies, and unless there is an actual video of the assault, as there was in this other case, nothing happens and it is denied.
Now let's broaden the scope here, reflect on our current situation, and generalize to other situations, white people. This is what happens every hour of every single day to black people around the nation in their encounters with police and other figures of authority. They are abused, assaulted, and degraded, their rights are denied or violated, and then when they make the charge that something happened, the power structure will do precisely what has happened here. They will deny it happened because there is no video. They will attack the integrity of the victim. They will question the motives of the victim. They will question the way the incident was reported -"Why did they mention it on twitter first?" They will suggest that you are lying or not even there. They will suggest ulterior motives.
They will even deny your humanity and fail to address you by your name. You are now "this individual." And to top it all off, your own alleged support structure will not come to your defense.
Congratulations, Michelle Fields. For a brief moment, you now know what it is like to be black in America. I hope you learn something from it, but I'm not holding my breath.