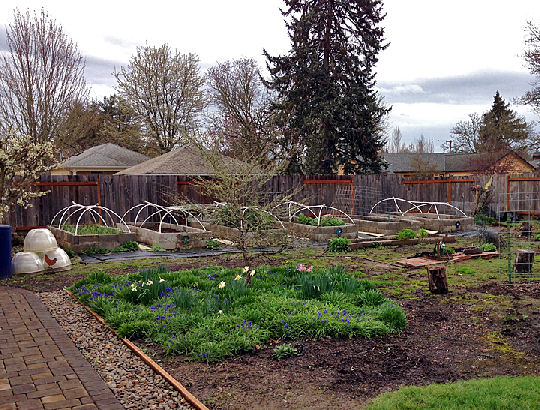 Daylight Savings time moves us an hour forward this weekend. Meanwhile, Trump rallies are moving us 50 years backwards!

— Bette Midler (@BetteMidler) March 12, 2016
PSA, just in case.
From loyal garden correspondent Marvel, last week:
This afternoon, we expect the start of a week-long Willamette Valley rain cycle. The morning was balmy (mid-50s), so we went out back and did some initial clean-up in some of the raised beds. We removed their Winter covers (sturdy 6-mil plastic hung over PVC ribs) and weeded the living daylights out of the soil. Taking the row covers off was the garden equivalent of switching on a kitchen light and surprising a roomful of cockroaches (eek): it was hard to believe the vitality, variety and quantity of weeds that had been lurking and thriving in their clear-cloaked paradise. Happy to say: the weeds pulled out easily and we finished the clean-up well before the first storm clouds moved in. We'll let the beds get a good soaking, then next week it'll be time to work in some new compost & leaf mulch.

We also trimmed and cleaned-up the Winter veggies: the kale is robust and (knock on wood) pest free; the parsley survived a couple of nasty frigid blasts; the garlic's ready to start forming lovely bulbs and a half-bed of second-growth cabbage is looking strong & willing.

The peas I planted a coupe of weeks ago are nearly ready to sneak their little noggins out of the ground. Yay.
***********
Here north of Boston, the very first daffodil buds opened up yesterday, in the southern-facing front bed next to the heat-leaking basement window. Sturdy green shoots dotted around the microclimes of our tiny property promise the usual progression: the daffs along the eastern chimney wall will open next, followed by the ones in the tree-shaded west side yard, and finally the ones along the northern exposure of the back chainlink fence. By that time, the irises in the front beds should be well along, and the vinca / creeping phlox flourishing blue & purple.
Now I need to begin spring cleaning… and finish making lists & order my tomato plants, too!
What's going on in your garden (planning) this week?