There's no such thing as "Super Tuesday Athena," of course. Just speculating on what it would be like if CNN decided to start naming voting days the way The Weather Channel is trying to make winter storm names happen.
A text exchange between my Clinton-supporting teenager and me this morning: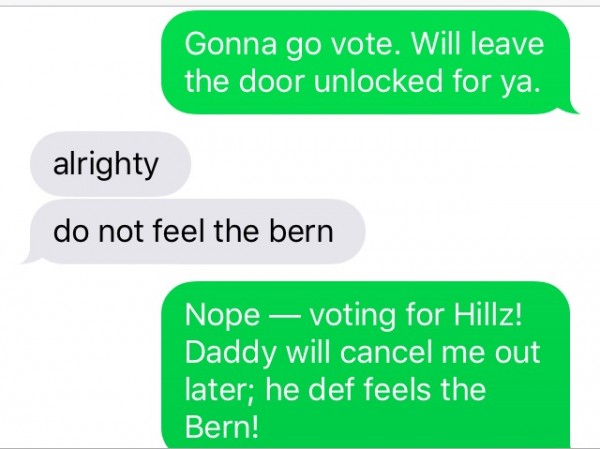 Foot traffic was pretty light at my polling place. In contrast to past years, the only political signs surrounding the church where we vote were from the Rubio camp. There was one every four feet or so. Guess that person is cleaning out his or her garage; the signs won't be needed for the general.
Any predictions? Looks like Clinton and Trump will win yoooodge in Florida. The polls suggest they'll probably win three other states today with their opponents picking up one each, with narrow wins in Ohio for Kasich and Missouri for Sanders. But after Michigan, who knows.
Looking forward to Rubio's concession speech this evening if he loses big as expected. A humiliating loss in Florida could end his political career, and good riddance to the smarmy little shit-weasel. He latched onto the fading Bush star on the down-low while running as a tea partier in 2010, then had the disloyalty to turn on his patrons. I'm sure Charlie Crist is enjoying the spectacle.
Open thread!