With last night's results, I think it is fair to say that the Democratic race is, absent strategic meteor strikes, effectively over.  The Democratic Party has a presumptive nominee in Hillary Clinton.
The Republican Party does not have one yet.  Fivethirtyeight.com has a good chart based on delegate targets that shows the Republican Party's most obvious problem.  No one is on pace for a clear majority in Cleveland and the two closest to pace are detestable.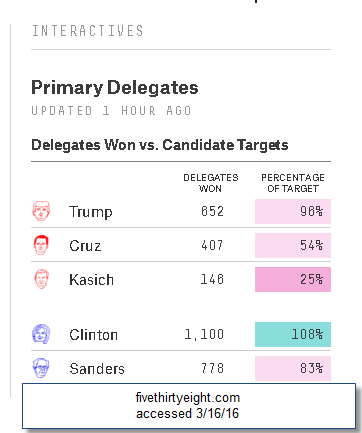 My state's primary is coming up soon and it is quasi-open with enough lead time.
What should people in my situation do? Should we just point and laugh while voting for the Democrats. There is an active House primary that I have a bit of an opinion on who would be a better Congresscritter, and my town's Mayor and my daughter's crossing guard may want my vote. OR should I cross over to contribute to the chaos in the GOP primary? If I elect to go that route, should I minimax and vote for a cadidate who would be a horrendous but competent President (Kasich) OR vote for the greater probability of a large Democratic win in November (Trump)?