Like a culinary version of the Kardashians, the "dump" recipe trend is taking over the checkout line magazine rack: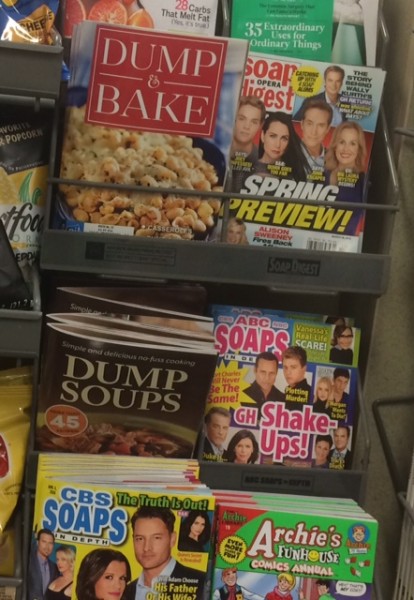 As far as I know, the dump trend was started by that adorable, bejeweled grandmotherly lady who stars in an astonishing number of 4 AM infomercials, where she can be seen dumping an odd assortment of ingredients into crockpots and a variety of other vessels and producing five-course meals in one steaming glop.
Seems like the dump trend originated with dump cakes, which may be a variation on the "cuppa-cuppa-cuppa" cake recipe made famous by "Steel Magnolias" in the '80s. After that, there was no stopping the dump, which has been applied to soups, appetizers, main dishes, etc.
It's raining hard here in Central FL, so we're using that as an excuse to do very little, although there's plenty that needs attending to indoors. You?
Consider this a "dump" post, i.e., an open thread.