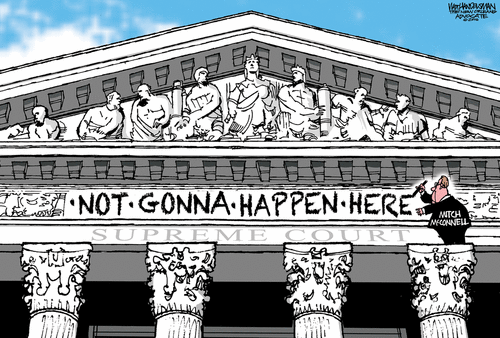 McConnell: no new Supreme Court justice until the NRA approves of the nominee https://t.co/3VvLhBQVYQ pic.twitter.com/oi4dmYf1Uq

— Ian Millhiser (@imillhiser) March 20, 2016
And also the gun mom shot by her four year old has to be on board. https://t.co/kKRW9K3Ij2

— Bob Schooley (@Rschooley) March 20, 2016
David Duke calls SCOTUS nominee Merrick Garland a "Jewish supremacist" https://t.co/iuyZbVjaBV

— Tablet Magazine (@tabletmag) March 20, 2016
So does @SenOrrinHatch stand up to Duke and defend Garland, or can't he because of the ridiculous position he's in? https://t.co/WtiUvLpCgJ

— Bob Schooley (@Rschooley) March 20, 2016
Another Republican breaks with party over Obama's SCOTUS nominee: https://t.co/2mZT6J1xw6 pic.twitter.com/3aANvfUjD8

— The Hill (@thehill) March 19, 2016
Sen. Ron Johnson (R-Wis.) suggested Thursday he would be willing to meet with Supreme Court nominee Merrick Garland, though it won't change his position.
"I have no problem with meeting with people," he told the Milwaukee Journal Sentinel. "I'll have to say, I'm not sure what the point will be."

Johnson, considered one of the most vulnerable senators up for reelection, is the latest Republican to split with Majority Leader Mitch McConnell (R-Ky.) and say he would accept a meeting if the White House reaches out…

Republican Sens. Kelly Ayotte (N.H.), Mark Kirk (Ill.) and Rob Portman (Ohio) — who are in reelection fights that, along with Johnson's, will help decide which party controls the Senate next year — have also said they would be willing to meet with Garland…

Separately, Sen. Orrin Hatch (R-Utah) said Thursday he would agree to a meeting, though it wouldn't change his position. He also spoke with Garland Wednesday.
Simply put: The #SCOTUS nomination is going to have to go to the American people in 2016. https://t.co/AN29xQbfNuhttps://t.co/yWPZzxKKwN

— Paul Ryan (@SpeakerRyan) March 20, 2016
1) We cannot have a vote on SCOTUS until the voters weigh in.

2) If the GOP's voters weigh in and nominate Trump they must be stopped.

— daveweigel (@daveweigel) March 20, 2016

***********
Apart from REPUBS IN DISARRAY!, what's on the agenda as we wrap up the weekend?