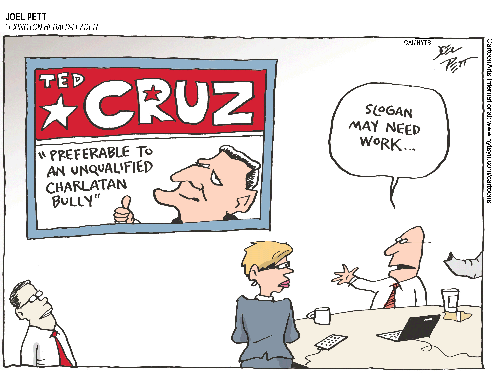 Ted Cruz is a smarmy, hypocritical thug. And if the stories in Andy Kroll's TNR report are any sample, Jeff Roe is his perfect campaign manager:
… Roe wasn't an obvious choice to join Cruz's team. He had no personal connection to the candidate. He'd worked only on the periphery of a couple of presidential campaigns—Mike Huckabee in 2008, Rick Perry in 2012. He'd never even managed a winning statewide race.

Roe knew Cruz was his guy. He had studied practically everything Cruz had ever done and said. Both men believed that politicians too often waffled in the face of opposition, and failed to deliver on what they promised to their strongest supporters. "It pisses me off," Roe told me recently. Politicians, he said, leave voters "behind, they take them for granted. Because of that, less and less people participate in the system because their values continue to get trampled and they don't feel like there is an outlet for them to do anything about it."

Roe also pitched himself as singularly qualified to run Cruz's presidential bid, touting a pedigree few, if any other, operatives had—how he'd built his own full-scale political operation from scratch, with multimillion-dollar budgets, dozens of employees, running everything from TV to direct mail, fund-raising, polling, research, strategy. And he was ready to put the whole thing on pause and move to Houston for Cruz—to go all in…

What we've yet to see in this campaign is Roe's other trademark attribute: the brass-knuckled approach to winning that's made him many enemies. From his earliest days running state and local campaigns, he's taken a scorched-earth approach to politics. Roe and his tactics have been blamed for damaging opponents' lives and reputations, and even for contributing to a gubernatorial candidate's suicide. (Roe doesn't exactly hide from this reputation: His web site features headlines describing him as "ruthless" and a "leading practitioner of hard-ball politics.")…

The portrait that emerges is of a sleepless, methodical operative—"machine-like," as a former client put it—who has made himself into the quintessential Svengali of our money-drenched, hyperpolarized era. You could form a support group with all the scarred and embittered candidates out there, Democrats and Republicans alike, who've ended up on the wrong side of Jeff Roe. "He's the best of the worst," said one Kansas City Republican who was beaten by a Roe client. "The guy's a scoundrel—and probably worse," said a Democrat who ended up on the wrong side of Roe. "Be careful," said another Democrat when I told her I was writing about Roe. "He's dangerous. Call your mom. Tell her you love her."…

One morning in the fall of 2006, Sara Jo Shettles, a Democratic nominee for Congress from just northeast of Kansas City, was out on a campaign trip with her adult son. From the other side of their motel room, Shettles's son yelled for his mom to come look at what was on the TV. "I looked up and there I was: the worst possible picture of me in the world with a big 'XXX' over my head in bright letters," she recently recalled. The 63-year-old, wheelchair-bound Shettles, a longtime Democratic activist, was running against Sam Graves—and, by extension, Jeff Roe. Shettles had neither the money nor the name recognition to mount a real challenge to the three-term incumbent. But that didn't stop Roe.

Years before, Shettles had worked for General Media Inc., selling ads for the science magazine Omni and a few other trade mags. Roe seized on the fact that General Media's flagship title was none other than Penthouse. That was more than enough for him to cut the defining ad of the race. His triple-X attack ad accused Shettles of peddling "smut" and effectively made her out to be a pornographer. Shettles defended herself by saying she was hired by Omni, paid by Omni, and never sold ads directly for Penthouse. (She told me recently that she handled contracts that also included ads for Penthouse.) Roe wasn't buying it. "She worked for scum," he told the Kansas City Star at the time…

I asked Roe about all these incidents, along with many more rumors I'd heard, over the course of our conversations. He said the Shettles Penthouse ad was accurate. He refused to comment on the Brazil episode. What came through most clearly was Roe's lack of repentance. He sees no reason to apologize—quite the contrary, in fact. When a Kansas City Star column appeared in 2007, criticizing his tactics under the headline, "Voters Seem OK With Political Low," he had the story made into a plaque for his wall at the Axiom office. "Politics ain't beanbag," he likes to say…

After Cruz also chose Roe, he moved his family and in-laws to Houston as he'd promised—and he insisted everyone else on the Cruz campaign do the same. There would be no far-flung team members, no interminable conference calls. Everyone who wanted a spot on the campaign had to move to sweaty Houston. "This is a cause and not a client," Roe said… According to a senior Cruz aide, Roe runs the office much the way he did Axiom. Meetings are conducted with brutal efficiency, punctuality matters, and Roe is quick to dispense parables from the hog farm and howitzer crew to make his point.

But his contribution has gone far beyond the tight running of the operation and the on-message consistency of the candidate. At the outset, Roe said, the most common perception of Cruz was as a "Texas Tea Party firebrand." But to win, Cruz needed more than just Tea Partiers. He needed the whole base—which just so happened to be Roe's passion. So the campaign team, led by Roe, set in motion a plan to relentlessly court not just Tea Partiers but Christian evangelicals, libertarians, pro-lifers, the whole panoply of the far right. They set the campaign's tone by choosing Liberty University, founded by the iconic evangelical preacher Jerry Falwell, as the setting for Cruz's campaign announcement in March 2015.

Cruz's strategy—stroke the conservative id, coalesce the base, and trash the establishment—has worked wonders so far. But over the long haul, Republicans on the outside of the Cruz campaign say it's risky, especially in light of poor turnout within the base in recent elections. "It narrows the path," one GOP operative not affiliated with a campaign told me. "If you put in place the turnout machine to get those people out, you can win the nomination. But you have to run the perfect race."…
So, apart from the major goal of keeping a thoroughly unsuitable candidate out of the Oval Office, defeating Ted Cruz would also deliver a serious blow to one of nature's least attractive parasites. Eyes on the prize, indeed.