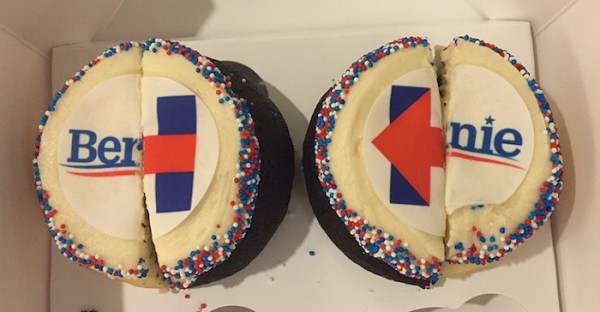 Washington, Alaska, and Hawaii all hold their primary caucuses today; I know at least a couple of regular commentors are deputies in their precincts, so we should have some on-the-ground reports by tomorrow. Meanwhile, Seattle's Dan Savage reports a charming local custom:
Terry Miller, our in-the-tank-for-Hillz cupcake correspondent, writes…

It's 8AM and what am I doing?!! Participating in the #CupcakeCaucus! Go to @cupcakeroyale [today] and vote with your mouth! (Don't worry! There are Bernie cupcakes too!) $1 from every cupcake sold goes to the DNC to help elect those important down-ticket candidates this November. A great way to show your support for your candidate, the DNC, and make your friend's tummies happy!…
On the other side of the country, the Washington Post's Dana Milbank prepares for a less appetizing meal:
… Six months ago, I made a reckless vow. With Donald Trump dominating in polls, I said I'd eat a column — 18 column inches of toxic newsprint, wood-pulp, ink and all — if Trump won the Republican presidential nomination…

… With the help of one of the capital's great chefs — and seeking the guidance of you, the reader — I am taking the prudent step of preparing to eat my words in case Trump secures the nomination…

So I called my friend Katherine Miller, head of the food-advocacy group Chef Action Network, who put me in touch with a chef who would help me eat my words in style: Chef Victor Albisu of Washington's Del Campo restaurant, an acclaimed Latin steakhouse. I did not discuss politics with Chef Victor, but I doubt he's a yuuuuuge Trump fan, based on his recipes. And I sensed he was being arch when he told me: "If you're eating newspaper, man, the world opens up to you."…
Chef Albisu's proposals all sound delish, but Milbank is still taking suggestions on Facebook and Twitter…
***********
Apart from food (Easter prep for some of y'all, I'm guessing) and politics, what's on the agenda for the day?