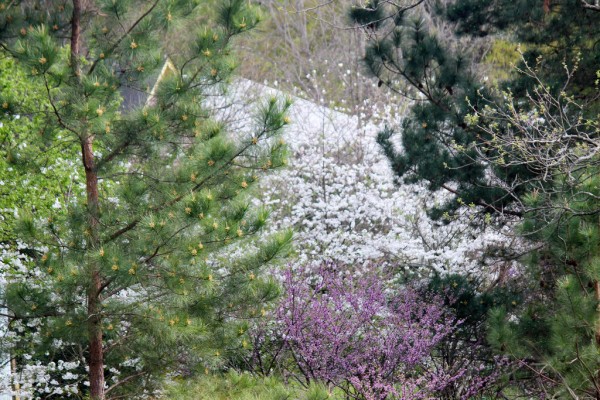 Courtesy of perennial commentor Raven, the trees in Georgia welcome spring, and in the photos below his spouse shows off her design chops celebrating Easter. Which is, of course, a fertility festival as well as the holiest of Christian holidays. (So's Passover, to some degree, but this year Passover is still three weeks away.)
Yesterday I bought the first transplants of the year, a half-dozen pansy sixpaks and an almost-open hyacinth for the living room. (Hyacinths are very strongly scented, one is enough for a whole room, and once it's finished blooming I'll dig the bulb in next to the front stoop, near the survivors from a half-dozen previous years.) So — unless the rain shows up earlier than expected — I'll celebrate this afternoon by filling some planters with color, as an encouragement to start the tedious process of cleaning up the winter detritus.
What's going on in your gardens (planning) this week?