As I've argued in this space before, crazy-ass Florida is in many ways an apt microcosm of crazy-ass America, with coastal liberal and moderate population centers serving as a bulwark to contain the bubbling reactionary bile from the interior so it doesn't overflow and wash everything sane and good into the sea.
Just as it matters very much who is elected president, it matters who is governor of Florida or any other state. But the composition of the legislature matters a great deal too. Florida is currently demonstrating what happens when the levee breaks.
Comically obvious supervillain Rick Scott is the current governor, and he has a Legion of Doom to carry out his evil schemes in the wingnut supermajority Florida statehouse, which, as befits an assemblage of dickheads, convenes in a laughably phallic facility: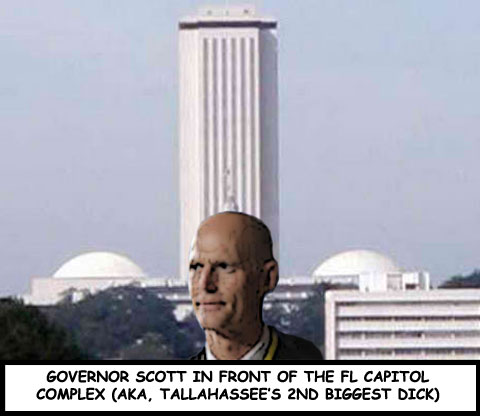 Like most conservative small government champions, Scott is in favor of policing the hoohah of every female constituent and compelling groups of citizens to piss in a cup. Last Friday, Scott signed legislation to end preventive health funding to Planned Parenthood and regulate abortion clinics out of existence.
It's not like we don't know what will happen if these laws go into effect; for instance, when Texas cut Planned Parenthood funding in 2011, the birthrate of poor women rose 27% in three years. As the linked NYT editorial notes, it's not only about eliminating access to abortion; conservatives at the state level are increasingly attempting to block access to contraception, with predictably disastrous results. (See Richard Mayhew's earlier post for more background on the importance of access.)
And it's important to remember that for all the human misery that will result from this one decision, Republicans at the state level continue to enact many other catastrophic policies that are turning their states into third-world hellholes. And Republicans at the federal level want to replicate that failed experiment and turn the United States into Kansas or Louisiana.
So there's a pressing need — at the local, state and federal levels — to stop them.
Occasionally I see comments here decrying the blog's focus on national politics, and I understand what the commenters are saying, though I think the rationale is more about not wanting to bore people in California, Malaysia, Illinois, Sweden, etc., with screeds about politicians in, say, Polk County, Florida, than reflective of a general failure to understand the importance of the legislative branch.
But just for shits and giggles, let's look at an awful politician from Central Florida for a moment: FL State Senator Kelli Stargel, R-District 15. She sponsored the bill Governor Voldemort just signed that requires abortion providers to have admitting privileges. Stargel says:
"I'm not affecting the woman's right to choose, what I'm trying to do is making sure that when she's made that choice, it's a safe choice," she said.
She's lying. Stargel is a pro-life zealot who doesn't really give a shit about women's health, or she wouldn't be enthusiastically joining her fellow Republican lawmakers in making it harder for poor women to access healthcare by defunding Planned Parenthood's preventive health services.
Stargel is a terrible lawmaker in many other ways too. She sponsored a bill that threatened to hobble the state's growing craft beer industry, probably because she's a Talibaptist or else gets major contributions from a beer distributorship — or both. She doesn't have any particular qualifications for office aside from her family's generational claim to the state government teat.
But she'll probably run virtually unopposed or against someone who has even fewer qualifications and resources than herself.* Again. And so goes the continuous struggle between those who would like to have nice things and those who want to smear poop on the walls because Jesus and Reagan.
If you bother to read a politics-focused blog, you probably already vote in every election, and I suspect I'm preaching to the choir when I say that each of us must keep plugging away in our own local, state and federal districts to improve representation across the board. But if you'd care to share how you're doing that in comments, feel free.
*To preempt any suggestions that I run for Stargel's seat, I can't because: 1) I don't live in her district, 2) I am temperamentally unsuited for public office, and 3) I already have a job. But I have and will continue to actively back opponents who take on the shit-stain Republicans who currently represent my area.