I like Kevin Drum but he is getting this wrong:
It's true that Obamacare enrollees tended to be sicker than pre-Obamacareindividual enrollees. But that's not because Obamacare enrollees are especially sick. In fact, they're nearly identical to people enrolled through employer plans, which take all comers and therefore come pretty close to representing the average patient in America….

the BCBS report concludes that Obamacare enrollees used more medical services and ran up higher bills compared to those in employer plans. That's a little hard to make sense of, since Obamacare enrollees are no sicker than average andgenerally have higher deductibles and copays than people in employer plans, which should motivate them to use fewer medical services.
Here is the actual Blue Cross and Blue Shield methodology:
The data in this report include approximately 4.7 million individual members and approximately 25 million employer-based group members and focuses on members ages 21 through 64. The impact of the federal risk adjustment program for the individual market is not reflected in this report. The charts report statistics calculated with the first nine months of claims data for each year because the medical claims for the fourth quarter of 2015 were not available at the time of publication. Using only the first nine months of data for both years ensures comparability. Data on medical spending are reported in terms of "allowed" medical costs [my emphasis]
The first problem with Kevin's analysis is that BCBS dealt with the cost sharing problem by looking at the maximum contract rate for the service before any member cost sharing was applied. Secondly, Andrew Sprung at Xpostfactoid is pointing out that ACA Exchange policies look a lot like ESI policies in terms of cost sharing:
The average AV for a HealthCare.gov enrollee is just a point below that of a gold plan (80% AV). And this estimate may be conservative, since, again, CSR takeup is higher at lower income levels. Only 17% of silver plan buyers on the federal exchange ended up with the 70% AV often cited without qualification as the value for silver.
Average employer sponsored insurance (ESI) has about 80% actuarial coverage. There is minimal difference in terms of average cost sharing and induced demand.
More importantly, the differences that Kevin is poo-pooing as minor and insignificant are very significant:
@bjdickmayhew And also would argue that it's still wise to wait a few years. Diffs of a few percent have a habit of changing considerably.

— Kevin Drum (@kdrum) March 30, 2016
Here is the percentage differences of utilization and disease categories in the report: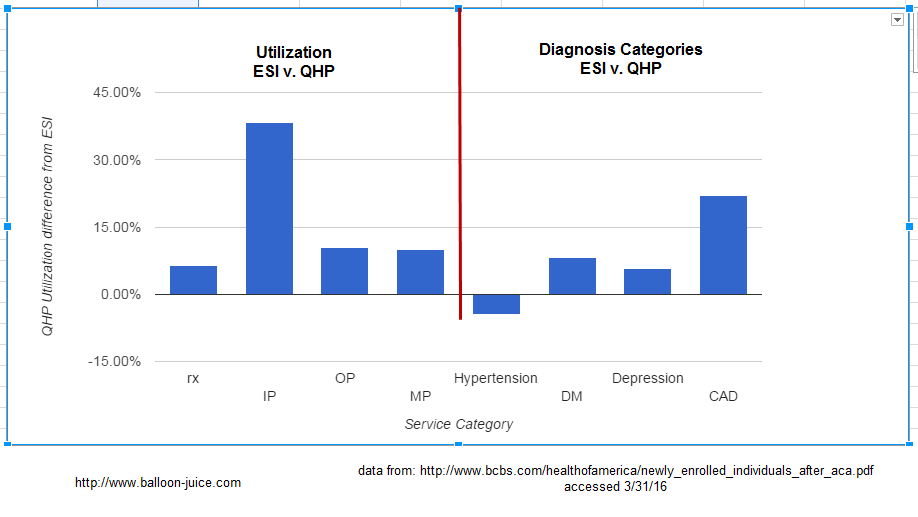 Speaking as an insurance professional who can't run stats on my smart phone while I am on the bus this morning, an eyeball test is telling me that over millions of covered lives, differences of 10% of utilization for outpatient and medical professional claims is operationally significant.  Inpatient (the most expensive part of the entire medical system) is up almost 40% for the Qualified Health Plan (QHP) individual market cohort compared to the ESI group.  Speaking as someone who does this for a living, we celebrate as a major success when an initiative drives down inpatient spend and utilization by 2%.  40% differential is massive.
The people who are new to the individual market are sicker and higher utilizers on average than people who get coverage through an employer group.  This makes sense for two reasons.  The first is that linking insurance to employment and usually full time or near full time employment is a screen for health.  If someone is sick with diabetes, depression and coronary artery disease, they are less likely to be working 30 hours per week than an healthy individual of the same age who lives next door to them.  Secondly, the people who were new to the individual market and not in the group market were more likely to have not been insured in the months leading up to their enrollment in the individual market.  We know that gaps in care lead to higher net expenses for people with chronic conditions.  So the story makes sense to me.
I agree with Kevin that this study is showing that the ACA is doing what it should be doing; getting people who need medical care access to medical care.  But dismissing clear evidence that there is a significant initial difference in population health is lazy and wrong.