I picked three works today. They are diverse, so a little something for everyone. If you want to be featured, send me your information and I'll include you. Also, you can add your work in the comment section.
I have two playwrights that I'm going to feature next, so if you are a playwright and want to be included, now is the time to shoot me an email.
The previous Authors In Our Midst can be found here. I had a request from Tissue Thin Pseudonym, he'd love it if anyone would review his book Becoming Phoebe (featured in the first author's post) and post it on Amazon.
Now on to our featured works: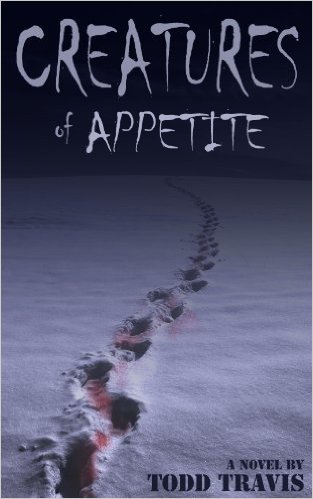 Read about all of them below the fold…
Todd Travis (I write thrillers and horror, I have three books selling well and two more due this year) had a few and left it up to me chose, so I went with the first one.
Creatures of Appetites
For fans of DEAN KOONTZ and THOMAS HARRIS, a tale of snowbound terror and suspense:

They call it the Heartland Child Murders.
Everyone else calls it a nightmare.
Locked doors don't stop him.
He leaves no trace behind.
He only takes little girls.
His nickname…

The Iceman.

A deranged serial killer roams wintry rural Nebraska targeting little girls with a demented purpose that no one can fathom.

Special Agent EMMA KANE, a former DC cop and damaged goods now with the FBI, is assigned to baby-sit burned out profiler JACOB THORNE, once the best in the business but now said to have lost his edge, as they both fly to Nebraska to catch this maniac.

Thorne is erratic, abrasive and unpredictably brilliant, but what he and Kane find in the heartland is much more than anyone bargained for, especially when the Iceman challenges them personally, where it hurts most.

The clock is ticking and a little girl's life is on the line.
======================
From Hungry Joe:
Anyway – Arthur Salm
Reinventing yourself takes humor, heart, and a TON of footnotes!

Max is a good kid—but you wouldn't know that if you met him at the boring family camp his parents dragged him to over the summer. There, Max reinvents himself as "Mad Max" and gains a bad-boy reputation for being daring, cool, and fearless. But when Max returns home, he finds it's easier to be fearless with strangers than it is among friends.

Peppered with humorous handwritten footnotes and doodles throughout, Anyway* perfectly captures the viewpoint of a young teen doing his best to find his place in the world—and an ideal balance between wise guy and wimp.
======================
And finally, I thought this was fun – a work in progress from Major Major Major Major
One Fish, Two Fish, Blowfish, No Fish
On Tuesday, just before noon, the last fish was caught. It was a mahi-mahi. It was unceremoniously thrown off the gaffe and onto the deck of the boat, where it was unceremoniously beaten to death with an unremarkable baton and then cleaned with a machete. The fisherman hosed it down afterwards, and the bloody water poured out of the scuppers and into the sea. It was, he would later report, delicious.

Nobody learned a valuable lesson about overfishing or climate change, because this didn't have anything to do with overfishing or climate change. Nor did anybody have a sudden epiphany about coral bleaching, or choose to devote their lives to reversing ocean acidification. There were no additional consciousness-raising efforts among schoolchildren to encourage them to grow up and become better stewards of the planet than their teachers had been.

No, none of this happened, because on Tuesday, every living fish on the planet simply disappeared. Poof. Gone.

The ecological and cultural devastation would, of course, bring the people of earth to their knees, though if pressed to talk about it pretty much everybody would start with the tsunamis.  Continue reading here

======================
That's it for this edition. What are you reading these days? Hopefully the authors will show up and talk about their works and you can ask them questions.
Email submissions here: whats 4 dinner solutions (at) live (dot) com