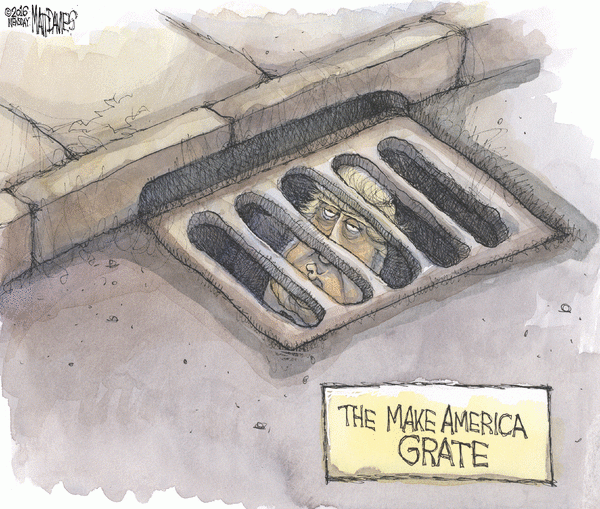 First, his NYTimes column, "Learning from Obama":
… At the end of 2015 Mr. Obama was still underwater, with significantly more Americans disapproving than approving. Since then, however, his approval has risen sharply while disapproval has plunged. He's still only in modestly positive territory, but the net movement in polling averages has been about 11 percentage points, which is a lot…

I know that it's hard for many people on both sides to wrap their minds around the notion of Obama-as-success. On the left, those caught up in the enthusiasms of 2008 feel let down by the prosaic reality of governing in a deeply polarized political system. Meanwhile, conservative ideology predicts disaster from any attempt to tax the rich, help the less fortunate and rein in the excesses of the market; and what are you going to believe, the ideology or your own lying eyes?

But the successes are there for all to see…

The 2008 election didn't bring the political transformation Obama enthusiasts expected, nor did it destroy the power of the vested interests: Wall Street, the medical-industrial complex and the fossil fuel lobby are all still out there, using their money to buy influence. But they have been pushed back in ways that have made American lives better and more secure.

The lesson of the Obama years, in other words, is that success doesn't have to be complete to be very real. You say you want a revolution? Well, you can't always get what you want — but if you try sometimes, you just might find, you get what you need.
And then on his blog, "Feel the Math":
… Now, as the bumper stickers don't quite say, stuff happens. But at this point it's something like a 90 percent probability that Hillary Clinton will be the Democratic nominee. Anyone denying that arithmetic is basically pulling a con job on Sanders supporters.

So what does that say about appropriate behavior on the part of her rival? Two things, I'd argue.

First, the Sanders campaign needs to stop feeding the right-wing disinformation machine. Engaging in innuendo suggesting, without evidence, that Clinton is corrupt is, at this point, basically campaigning on behalf of the RNC. If Sanders really believes, as he says, that it's all-important to keep the White House out of Republican hands, he should stop all that – and tell his staff to stop it too.

Second, it's time for Sanders to engage in some citizenship. The presidency isn't the only office on the line; down-ballot races for the Senate and even the House are going to be crucial. Clinton has been raising money for other races; Sanders hasn't, and is still being evasive on whether he will ever do so. Not acceptable….

Sanders doesn't need to drop out, but he needs to start acting responsibly.
***********
Apart from applauding truth in punditing, what's on the agenda for the day?