When I was in the army, I had a Sergeant Major, who when displeased, would bellow "unass my AO (area of operations)." That's basically what the Supreme Court did today:
The Supreme Court handed conservative challengers a loss Monday in a key voting rights case.

In a unanimous result, the court said a state can draw legislative districts based on total population. At issue in the case was the "one person, one vote" principle dating back to the 1960s, when the court held that state legislative districts must be drawn so they are equal in population.
Here's a good background on what the shitters wanted to do:
But on December 8, the Supreme Court will hear a new challenge to "One person, one vote" in Evenwel v. Abbott, brought by the same conservative organization, the Project on Fair Representation, responsible for the gutting of the VRA in the 2013 case Shelby County v. Holder. The obscure Evenwel case, which challenges the drawing of State Senate districts in Texas, will have major ramifications for political representation in the United States.

The plaintiffs want legislative lines to be drawn based on eligible or registered voters instead of total population as measured by the US Census Bureau, thus not counting children, immigrants (documented and undocumented), prisoners, and other nonvoters. They claim the current system, by including nonvoters, denies "eligible voters their fundamental right to an equal vote." Edward Blum, founder of the Project on Fair Representation, calls it "the principle of 'electoral equality.'"
Long story short, this was nothing more than a transparent attempt to dilute the vote of minorities in urban areas by not counting people, but counting registered voters. Combined with conservative purges of voter roles, this would shift power to more rural areas. In other words, while the population of a city might have 1 million people, if only 200k were voters, the district would be apportioned to the voter rolls. This would shift power to more rural districts, and thus give conservatives an advantage, much like how the Senate inflates power in the hands low population states.
Ruth Bader Ginsburg wrote the opinion, and it read a little bit like this: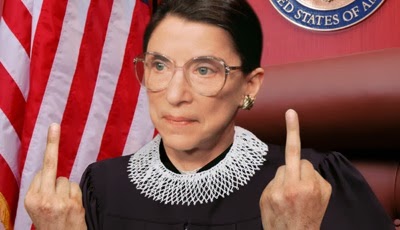 So that was some good news today.