@joshschultzdc @larry_levitt @LHPro_Health @insureblog @sangerkatz @LouiseNorris Is there any benefit to "loss leaders" in insurance market?

— Charles Gaba (@charles_gaba) April 2, 2016
It was a bet on churn.
Given certain assumptions, it was not a crazy bet for some insurers to make in the Fall of 2012 when plan architecture for Exchange launch began.
There were a few assumptions that needed to be made for a loss leader penetration pricing strategy to be a viable strategy.  The first is the actuaries had a good hold on what the illness profile would look like.  The pricing could be under the actuarial fair pricing but there would be no massive negative surprises.  This feel for the population needed to be fine grained as it was assumed people who signed up in the first month or two of the initial open enrollment period would have a very different claims profile than people who signed up with nineteen minutes left before the final deadline.
The second major bet was that the membership would be relatively sticky.  The pre-PPACA individual market was a high churn market.  A typical year would see well over half the individuals on a policy leave the policy.  This means two things.  First insurers had small windows to collect premiums for any major medical events. Secondly, insurers had fairly shallow data sets.  The PPACA subsidy system takes away one of the major drivers of dropping policies because they cost too much.  The mandate also makes running naked less attractive.  There was a bet that the hassle of switching insurers in Year 2 to save a few bucks a month would not be worth it.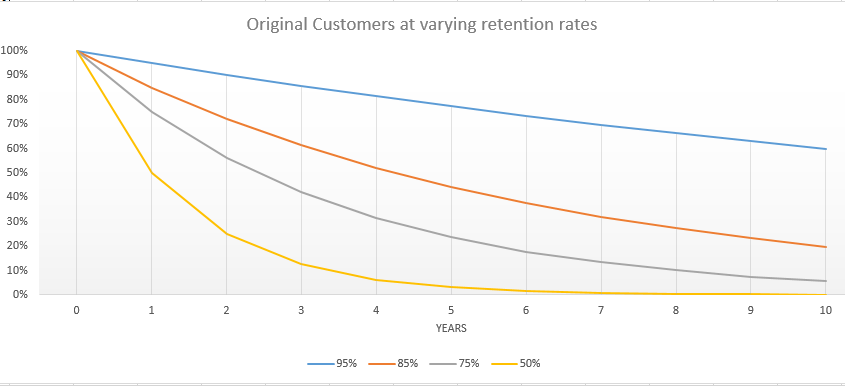 If churn was fairly low, the future year customer acquisition costs would be fairly low even as premiums rise to slightly above actuarially fair levels to make up for the initial losses.  Longer average duration of stays would also allow insurers to create big, rich data sets that they could use for risk adjustment revenue maximization as well as pro-active prospective chronic condition management.  If the deep data set could allow for earlier interventions on chronic conditions that cost the insurer less than the risk adjustment payment bump for that condition, a sick individual could become a net profit center when their premiums are combined with risk adjustment payments.
These assumptions are highly sensitive to churn.
And they failed miserably.  At best the actuaries were not allowed to be right.  Products were priced significantly under expected medical expenses.
As @sangerkatz says, insurer finances would be better if they hadn't set ACA premiums 15% below @USCBO projections. https://t.co/nykW6aVIP8

— Larry Levitt (@larry_levitt) March 31, 2016

More importantly, we are seeing the individual markets to be extremely flexible and not sticky.  In 2015, we saw a 15% switch rate plus membership growth:
Roughly a third of all covered lives that had a 2014 policy and wanted a 2015 policy went back on line to look at their options.  Half of that population switched.  Switchers tend to be healthier on average than non-switchers, so a 15% switch rate from high cost/low value plans to low cost/higher value plans means the plans that lost membership lost a lot of their profit margin.  This is market discipline in action.
Furthermore, roughly a quarter of individuals who started 2015 on Exchange did not finish the year with an on-Exchange policy.  Attrition is to be expected as the Individual Market has always been a holding tank until something better comes along for a large proportion of the market.
So between switchers and leavers, insurance companies are facing 40% churn and the additional covered lives brings down the average length of membership at a particular company even more.
Betting on stickiness which is the fundamental bet on a loss leadership strategy in order to buy membership and buy good risk adjustment data is not an inherently crazy bet.  It is just a bet that failed miserably on the Exchange markets.