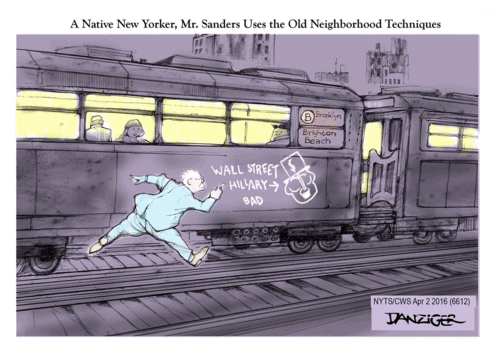 1. Here's a big question for @SenSanders heading into the #NYPrimary – why did you leave New York?

— Tom Watson (@tomwatson) April 3, 2016
Everybody knows that Bernie Sanders was born in Brooklyn; he's hung onto his accent as grimly as Henry Kissinger does his. The Big Apple — if you can make it there, you can make it anywhere! But the converse of that hopeful song: If you leave New York, you somehow weren't… capable. Of course it's never easy to live in The City, but easy is for weaklings & losers. And not everybody can stay in the city, or there wouldn't be room for all the ambitious migrants, but still… however good our reasons for leaving, we Settled for Less. I thought this attitude might've mitigated since my escape in 1973 (just a few years after Bernie bolted for a Midwestern college, I fled to a different one), but if that NY Daily News Editorial Board interview transcript is a true indicator, maybe not so much.
The Transcript of Sanders' meeting with the Daily News Ed Board is almost as damning as Trump's with the WaPo https://t.co/LLn3Z4HZrc

— Dan Pfeiffer (@danpfeiffer) April 5, 2016
There's a lot of people were negatively impressed by what Sanders said in that interview. Even Chris Cillizza, the Washington Post guy who joked about "Hillary 'Mad Bitch' Clinton," called the interview "Pretty close to a disaster":
… A large part of Sanders's appeal to the throngs who back him is his insistence that we are in need of a political revolution. And, for those people, the Daily News interview will be much ado about nothing. But what the interview exposes is that once the revolution happens there will be lots of loose ends to tie up. Loose ends that Sanders either hasn't grappled with — or doesn't want to.

Remember that Sanders's campaign began as the longest of long shots. He could propose the world and more because no one thought that he ever had a chance at winning… The Daily News interview amounts to a moment of reckoning for Sanders. Okay, let's say you get elected — now what? And have you thought through what it might mean to the American worker and the American economy if all of the things you insist have to happen actually did happen? Judging by Sanders's responses, he hasn't.
Sanders has spent several decades focused on one political issue and he still can't answer basic questions about it. That's worrying.

— Jill Filipovic (@JillFilipovic) April 6, 2016
Jonathan Capehart, also in the Washington Post, has a good summary of "9 things Bernie Sanders should've known about but didn't". Three general categories: Beyond sputtering "Jay… Pee… Mawgan!", Sanders doesn't seem to have thought out how he'd "take down Wall Street", or how he'd replace an industry upon which a great many New Yorkers who are not highly-paid hedge fund predators depend. He doesn't seem to have given much attention to the Israeli-Palestinian conflict (you may have heard, there's a large NYC Jewish vote), or to what the next American president should do about ISIL (beyond not having voted for Dubya's Iraq war, which would be sound policy if only the Oval Office had a working time machine). And then there's the Great Token Question…
@thepoliticalcat @AlGiordano Not metro card. You mean Token? pic.twitter.com/W0m7fMPX1G

— Brother Mark B (@ProgressWeekly) April 7, 2016
The NY subways haven't used tokens for a dozen years or more. Even I know that, and I haven't been back to the city for almost that long. Yeah, it's not a significant issue like Bernie's other flubs… but it's a signal to NYC dwellers (even Bloomberg takes the subway sometimes!) that Sanders is no longer a "real" New Yorker.
Which is not to say that every New York voter will immediately abandon Bernie — hell, for many apple knockers upstaters, LunGuylanders, and even the Staten Islanders who applauded Eric Garner's murder, hating The City is practically a religious requirement. On the other hand, most of those people are gonna be voting for Donald Trump anyway…
Sanders is very fluent when speaking in broad moralistic terms. Less so on the nuts and bolts of his policies. pic.twitter.com/7Z7Qg0CIHf

— Sahil Kapur (@sahilkapur) April 5, 2016
6. Bernie Sanders got tripped up on the most basic question on breaking up the banks: "How?" https://t.co/KhcPsHNyz9 pic.twitter.com/2vNJfI53f6

— The Briefing (@TheBriefing2016) April 5, 2016