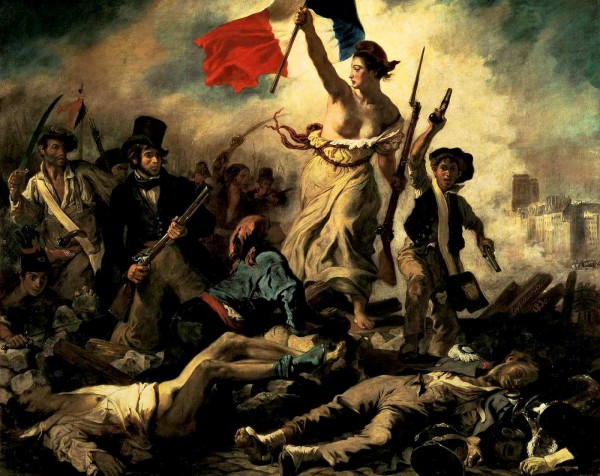 *
Last night Anne Laurie posted about an announced rally of 2nd Amendment enthusiasts who had planned to have an open carry demonstration at/adjacent to Donald Trump's rally in Pittsburgh today. In the comments I posted the following reiteration and clarification:
I think it is important to reiterate (or, perhaps, clarify) that the open carriers are not demonstrating to get open carried made legal in Pennsylvania. Rather, per what Al Giordano tweeted, they are demonstrating while open carrying to demonstrate their commitment to the 2nd Amendment. They're not trying to get the law changed, as was the case for the past several years in Texas. They're basically just showing up armed to show up armed. And to make sure everyone knows they're showing up armed to show up armed. Basically its an exercise of and in narcissism.
The Pittsburgh City Paper has reported (h/t: LAO) out that things are a bit more detailed than yesterday's reporting implied.
Yesterday, an open-carry support group posted a message on Reddit saying they would be armed and patrolling outside Trump's Oakland appearance. The goal was to inhibit potential protesters. Trump is holding a town hall meeting with Fox News' Sean Hannity  inside the Soldiers and Sailors Memorial Hall at 5:30 p.m. A screenshot sent to City Paper yesterday afternoon details plans for a group of 50 people to patrol in loops armed with guns around Oakland blocks to stop potential protesters from starting roadblocks. The screenshot has since circulated on social media but appears to have been removed from Reddit.
The link to the Pittsburg sub-reddit is here (h/t: RawStory). You can see the responses to the original post even though it has been deleted. The Pittsburgh City Paper story I linked to above has this screen grab of the original and now deleted sub-reddit post.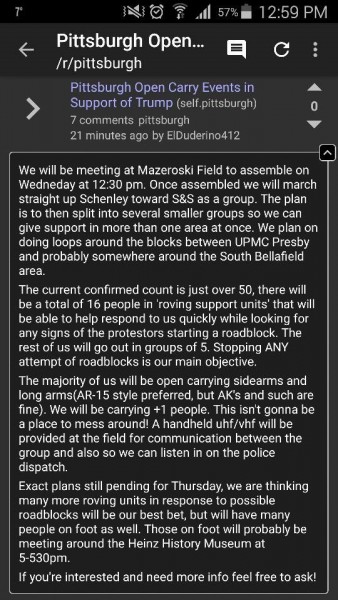 While it is unclear if this is the 2nd Amendment supporters demonstration that was reported about yesterday just with more details, or if this is something different and in addition to it, this is a very different dynamic than what Pittsburgh thought it was dealing with yesterday. Open carry is permitted in Pennsylvania except in Cities of the First Order. The only Pennsylvania city that is a City of the First Order is Philadelphia. Here is the link to Title 18 of the Statutes of Pennsylvania's Consolidated Code. Title 18 lists the criminal offenses. Chapter 61 includes within it the carry statutes for firearms and delineates crimes relating to firearms in Pennsylvania.
Pittsburgh authorities are now facing not a lawful demonstration of open carriers in support of the 2nd Amendment. Should this Pittsburg sub-reddit organized activity take place they are potentially facing vigilantism. Such an action, should it occur, has the potential to get out of control and do so in dangerous and unpredictable ways. The discussion at the sub-reddit includes the argument that open carrying Pennsylvanians trying to engage other, and presumably anti-Trump, protestors would, if anything goes wrong, be covered under Pennsylvania's Castle Doctrine. Chapter 5 of Title 18 of the Statutes of Pennsylvania's Consolidated Code provides the legal definition and explanation for the use of force in self defense – including the revised Castle Doctrine. Here's a two part discussion by a Pennsylvania attorney on the pros and cons of the changes to Pennsylvania's Castle Doctrine that became law in 2011.