Healthcare.gov and the Health and Human Service (HHS) research group ASPE just released a summary of the shopping tendencies during the 2016 Open Enrollment Period for Healthcare.gov states.  There are lots of very interesting nuggets in it, but one table leaped out at me as it plays to my hobby horse of churn analysis: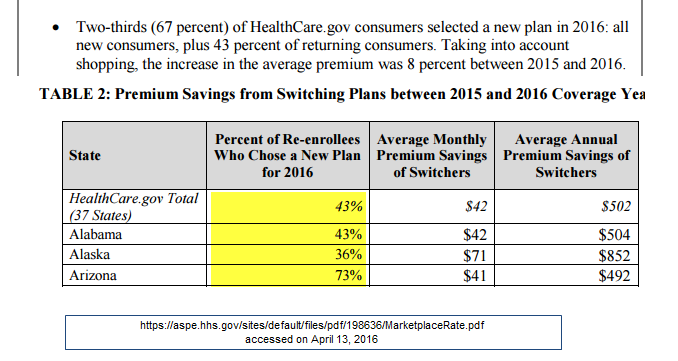 How the hell do you do population health management on a population that is this transient***?
The short answer is you really don't.
The long answer is that it is complicated. The stickers are more likely to be sick than the switchers so there is some value of population health management for the people who are actually sick and driving the expenses. But realistically, the Exchanges make up 4% of the US population. The individual market has historically been a high churn market where people stay in it until something better comes along. The Exchange market is similar to the pre-Exchange individual market in that aspect. The population health management focus of the ACA is far better targeted at the Medicare population as Medicare is where the probability of chronic conditions (ie being old) is very high over a very large population. That market has a good bit of churn but it also has mature risk adjustment systems in place with experienced players. Insurers will still see a good amount of churn but the process smooths it out plus the benefits of active population health management are fare more likely to be at least a break even proposition for the insurer in any given year.
*** I have a question into ASPE if they are including people who move from 2015 Mayhew Silver HMO to 2016 Mayhew Silver Narrow EPO in the mover category?  I think they are.  If that type of movement is being accounted for, the population is not quite as transient as the population health manager for Mayhew Silver Narrow EPO sits on the bathroom side of the 13th floor and the population health managers for Mayhew Silver HMO sit next to the kitchen on the 13th floor.