This is a follow-up from this morning's post on cost sharing.  I was curious what it would take to create a 70% actuarial value plan where there was only one form of cost sharing and no frills to it.
I used the 2016 CMS AV Calculator for Exchange as my tool.  You can play with it as a macro enabled Excel file.
Creating a deductible only plan was fairly simple.  The insurance would pay nothing out until the person spends $3,725 on cost-sharing eligible services.
The co-insurance routine was a bit harder to build.  There are a wide ranges of co-insurance rates that could be chosen.  For simplicity sake's I chose a $0 deductible and a 40% co-insurance rate to start with.  That failed.  I could not design a Silver plan using only co-insurance at 40% before I hit the maximum out of pocket constraint of $6,850.
A 50% co-insurance rate creates a 72% Silver plan while a co-insurance rate of 53% creates a 70% Silver plan.  The out of pocket maximum for these plans are $6,850.
I will not even try to describe what I had to do to get a co-pay only plan.  Below is a screen shot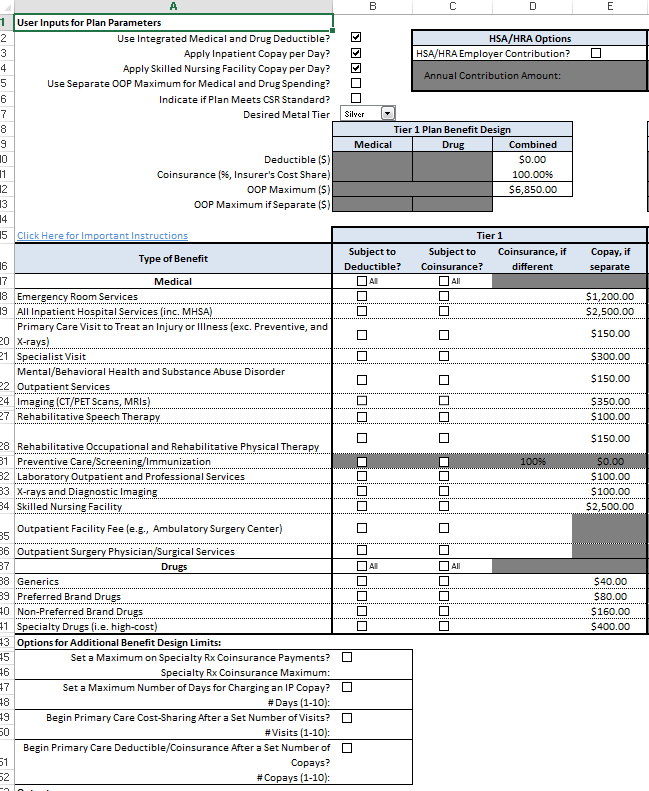 Again, maximum out of pocket is $6,850 and most of that will be paid for by people who have inpatient admissions and high end specialty medications. The PCP co-pay is high enough that no one will ever go see their doctor for little things.
The problem is not the deductible.  The problem is low actuarial value of coverage combined with the high cost of services.