Yes, the Democratic primary has entered its manic and ugly phase.  Yes, I'd dearly love to see Bernie show some sign he truly cares about getting either Democrat into the White House before any other ambition.  And damn-straight I'm ready to just make it all stop.
But it could be worse.  We could have to face this from one of our own candidates:
"It's a wonderful, wonderful holiday for our friends in the Jewish community – the Passover," Kasich told reporters after emerging from the matzah bakery, a box of the fresh-baked stuff in hand.

Yes, Jews are known to love The Passover, almost as much they love The Pre-Election Drop-By from vote-seeking politicians.

…Kasich then launched into a brief appraisal of the links between Passover and, um, the blood of Jesus Christ.

"The great link between the blood that was put above the lampposts" – er, you mean doorposts, governor — "the blood of the lamb, because Jesus Christ is known as the lamb of God. It's his blood, we believe …" [forwarded by a valued BJ reader]
Putz doesn't even begin to describe the schmendrick who would say such a thing.  Putz is too grand a word, to expansive.  Kasich is a schmeckel, a schtickl, a petseleh, someone of so little use as to be barely worth noticing.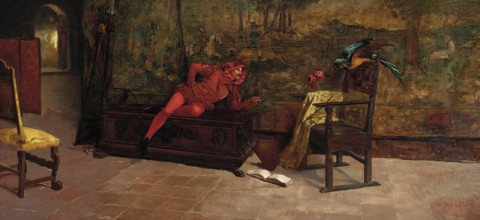 But oy gevalt, is this dumb!  I got two words for Kasich's advance team:  blood libel.  There's no bottom to the evil that comes from associating Jewish rituals with the blood of Jesus — and no limit to the stupid it takes to wander into such a thicket.  Ignorance is a pathetic excuse — to the point of being disqualifying (at least for any Jewish voter I know) in a would-be president.
It gets better, which is to say not so much worse as more bathetic.  Before hitting the matzoh bakery, Kasich tried to hang with some yeshiva bochers at a bookstore who told him that they were studying Talmud, specifically, the laws of the Sabbath.  Kasich's comeback?
"You know who I like?" Kasich finally said. "Joseph. You guys like Joseph?"
Yeah, John.  Just like we enjoy the top ten commandments.
It is to laugh.  And to mutter a little blessing:
Thank the FSM this guy is their problem, not ours.
Image:  Thomas Shields, A Fool's Fool, c. 1887.