This is a non-ironic tweet from last night:
@bjdickmayhew fun with the AV calculator

— rebeccastob (@rebeccastob) April 14, 2016
I spent some time last night playing the the actuarial value calculator and found a corner case that has significant negative public policy problems and a probable flaw in the CMS model.
This is a hack that companies can use to spam the Exchanges in states with very light regulation.  Here is the 2017 AV calculator to check my work.
A deductible can be thought of as a first dollar 100% co-insurance where the patient is responsible for all of the contracted rate expenses.  It is logically equal and it should be mathematically equal to a 100% co-insurance rate.  Logically a deductible of X which is also equal to the same out of pocket maximum  is the same thing as a 100% coinsurance rate with an out of pocket maximum of X.
The policy problem is the definition of substantial difference for plan differentiation allows for the addition of a plan design by a company if there is a significant difference in deductible.  going from a $3,750 deductible to a $0 deductible qualifies as a significant difference.     Companies can submit their first plan with a deductible only cost sharing design and then submit the same exact plan with a 100% coinsurance design to the same out of pocket maximum.  For plans that are not the first or second Silver there is no value from the point of view of the company.  However if this is done for the plan that is the first Silver, the cloned plan becomes the second Silver at the same price point.  It is an illusion of choice.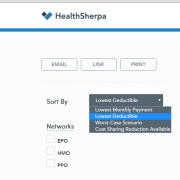 I believe the 100% co-insurance design would significantly outsell the 100% deductible design because the current set of decision support tools prioritizes low deductible plans.  This is an Search exploit as well as a Subsidy exploit.
Ambetter in Chicago actively spammed the Exchanges with functional isomorphs of their Silvers so that cost-sensitive buyers could be fully subsidized on an Ambetter product only and then pay significant incremental premiums to go to any other insurer.  However there was at least some gap between the first Silver and the second Silver.  This plan design strategy eliminates that gap.  The AV calculator allows for this plan design strategy to occur.  There is a single "Are you sure" message box to ward against data entry errors on 100% co-insurance but no hard prohibitions.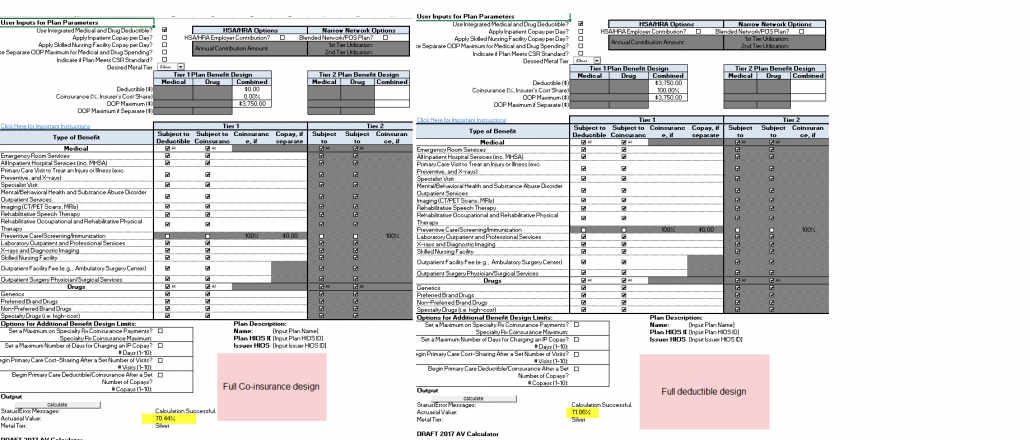 This hack would not work in all states.
California with their active purchaser model has a very high substantially different standard.  A cloned plan design fails that standard miserably.  Washington state only allows a maximum 50% co-insurance rate.  My state's regulators have broad discretion to laugh at us and reject one of the two plan designs.  However not all states have active or empowered regulators.  If the plan design meets model requirements, they will approve anything.  This is a special concern for the states that have outsourced all regulatory authority for the individual market to the federal government.  Those plans have to meet very minimal standards, and these plans will meet those standards.
Finally on a technical note, I think there is a problem in the AV calculator as the co-insurance design has a lower actuarial value than the full deductible design.  In my opinion, the model should produce the same actuarial value with these two inputs.