ETA:  Not sure I've ever big-footed anyone so thoroughly, but consider this a thread for everyone who doesn't care about hockey, of whom I am one.
Hey all.  You may recall that roast chicken is an object of obsession in the Levenson household. It is the one true votive food, as far as I'm concerned, comfort and connoisseurship and all that.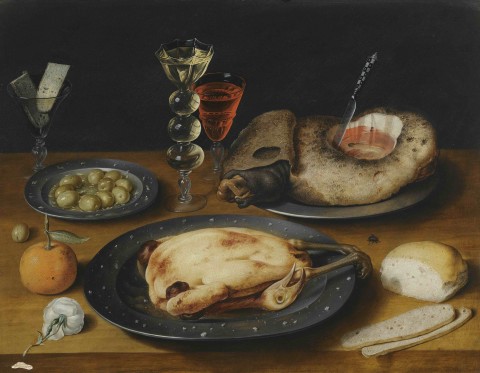 Since that prior post (it's only been ~4 years…), we've played around a lot with the Melissa Clark recipe that prompted it.  Our standard fast variation on that (given that ramps (a) aren't that much of a favorite in our house and (b) are only available for about twenty minutes a year) is to replace the original vegetable medley with a couple of leeks and a mixture of mushrooms — usually shiitakes with creminis or oysters or whatever's on hand — together with capers, garlic and lemon rind.
A wonderful change up on that has been to use this recipe for curried cauliflour instead of leeks and mushrooms, whilst still following Clark's basic method. (We add these to the cauliflour dressing: 3 papadew peppers, sliced; ten coarsly chopped garlic cloves; and 1 tsp baharat spice mix (or any kind of random flavorful spice mix lying around).We start the splayed chicken breast side down for ten minutes, and then add the dressed cauliflour at the turn.  For a 3.5 lb chicken, allow for roughly 40 minutes total — and when you're done you get this lovely curry – esque roast chicken.  Not the crispest of skin, but very tasty.
But all that's prologue to two new-to-me roast chicken recipes I made this week, both of which rocked my world.  Given that I'm really trying to spend a whole weekend without writing about politics*, I'm offering these up as both a gesture of peace to both the Bernistas and  Hillarions that may visit this site — and as a displacement activity to ensure I don't start talking the relative benefits of Glass-Steagall vs. rigorous capital requirements and so on.
First up — this lovely recipe from an old NY Times column on what chefs like to eat when they seek a meal they didn't cook.  It's dead simple, and very quick:  a 3.5 lb chicken** roasts in just over half an hour.  The only even mildly tricky bit is the removal of both the back and breastbones:  two different good knives help (a big chef's knife and a robust boning knife).  Other than that, it's just a matter of basting the thing a lot and making the green sauce.  My only change-up on first trying it was to add some sherry vinegar to the salsa verde; the capers alone didn't give it enough bite.  But allowing ten minutes for prep, the whole meal takes about three quarters of an hour and the result is a simple, clean chicken with a lovely spring-summer sauce for counterpoint.
And second, from a chef who's work has really shifted the palette in our house, this not-quite-roast chicken turned out beautifully this Wednesday.  It's Yoram Ottolenghi's Chicken Sofrito, slightly modified to avoid the occasional pitfall of Jewish cookery, the felt need to make sure the damn thing is really, really done.
Our amendments:  no potatoes.  Only about four or five good sized garlic cloves, roughly chopped, instead of his twenty five (sic!).  I butterflied a 3 lb. chicken (I like the smaller birds), rather than quartering it.  Having seared it as the recipe calls for, I pulled it and sauteed on large white onion, sliced, and then added sliced up yellow and red sweet pepper — a half a pepper of each — then the garlic.  Cooked those down for a few minutes before returning the chicken to the pan.  Most important — I substituted pimenton — Spanish smoked paprika — for the sweet paprika Ottolenghi specifies.  Takes it to a whole different place.  And I squeezed just a little lemon in, because I always do.
This is another quick-cooking dish. The chicken was above refrigerated temperature (I pulled it from the icebox about an hour before cooking), small, spatchcocked, and seared pretty good.  Cooking time after reassembling the chicken and vegetables was around a half an hour.
The result was simply fabulous.  Where the first recipe was the essence of simple, clean, chickeny-ness, this had a lovely sense of secret knowledge and the romance of the East and all that.  Both dead easy; both fast enough for mid week.
I know, I know — I'm babbling.  But while I'm no evangelist in most domains, roast chicken in almost any variation, done right, is as near as I get to heaven in this vale of tears.  So I hope y'all won't take it amiss if I spread my poultry gospel.
And even if you do, take solace in finding in this post something to kvetch about that doesn't involve orange scalp ferrets or the proper way to consume pizza.
Now — over to you.  Talk about the essential foods for your tables or anything else you damn well please.
*I'm not sure if spending manic hours gutting David Brooks most recent two risible attempts at rise-above-it-all civic moralizing/thumbsucking would count, but my nearest and dearest are.  Let me thus say here only my now-standard reaction to BoBo:  intercourse yourself ninety-degrees-off-bilateral-symmetry-axis with an oxidized farm implement.
Image:  Osias Beert and workshop,**  Still life of a Roast Chicken, a Ham and Olives on Pewter Plates with a Bread Roll, an Orange, Wineglasses and a Rose on a Wooden Table, before 1623
**better known for artistic craftsmanship than originality of titling.