Politico's Gabriel DeBennedetti has a hot take on how Bernie lost New York:
Bernie Sanders had just arrived at the rally, and missed the incendiary remark entirely. Many on the senator's campaign had never even heard of Dr. Paul Song, the speaker who had just commandeered news coverage of a massive Washington Square rally in New York by referring to "corporate Democratic whores."

Nevertheless, by the next morning, the campaign was forced into full scramble mode. Cable coverage of the 27,000-person rally was eclipsed by reporting on the furor surrounding the comment, requiring a Sanders response. After first resisting an apology, the campaign settled on disavowing the remark with a tweet.

Another day, another lost news cycle.

In New York, Sanders finally hit the wall, his winning streak halted by a daily pummeling that forced him on the defensive and stopped his momentum cold. The tabloids dealt him punishing hit after punishing hit. The Democratic establishment, most of it in Hillary Clinton's camp, piled on harder than the Sanders campaign expected. Caught up in one distraction after another – a quarrel over debate details, a back and forth with Clinton over her qualifications, a trip to the Vatican in the run-up to the election – Sanders never gained his footing or even came close to pulling off the upset victory he once predicted with frequency.

Just two weeks before, on the night of his victory in Wisconsin, everything seemed to be going Sanders' way. He was flush with cash thanks to his energized small donors and he was riding a wave of momentum after posting six wins in the seven previous contests. His aides had just agreed to the finishing touches of a debate in New York — something Sanders himself wanted after the campaigns had initially agreed to hold it in Pennsylvania. His top staff viewed the increasingly sharp timbre and pitch of the race as confirmation that Clinton herself was frustrated with the direction of things.
Riveting. Exciting. Like describing a tense boxing match or playoff hockey or a… horse race. Except it's all total bullshit. Here are the results from last night's primary in New York: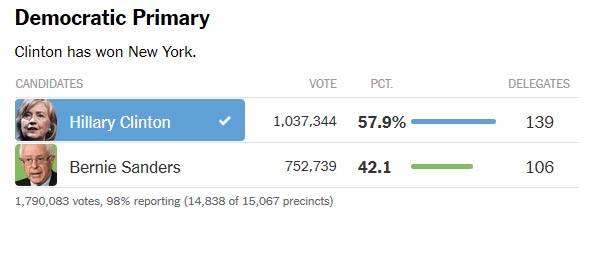 She earned a million votes, 58%, and won 139 delegates
For good measure, here are the results from 2008: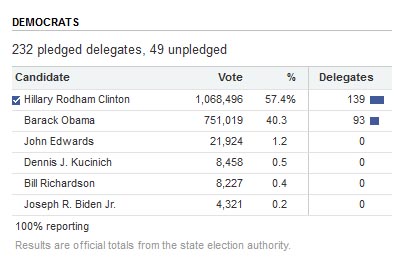 Oddly enough, she earned a million votes, 58%, and won 139 delegates.
That seems remarkably consistent to me. Obviously, the Clinton coalition is different in 2016 and 2008, as her coalition this time around is much more robust demographically and more resembles the Obama coalition and the future of our party. So there are some differences. But, according to our intrepid Politico reporter, it was the remarks by Song and a few daily missteps that sank Bernie. Here's the polling averages in New York for the last month to demonstrate how full of shit our Politico reporter is: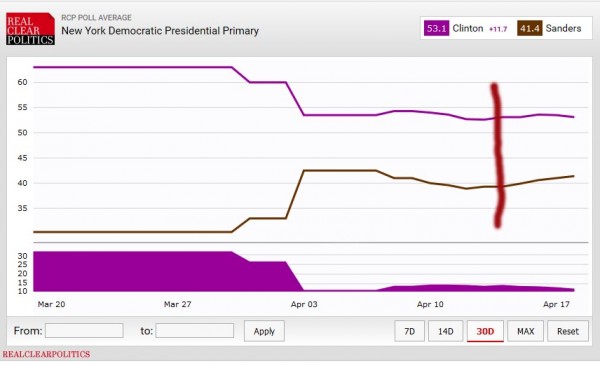 The red line approximates where Song's remarks were made. How anyone could assert that things were going Sanders way, or that "momentum" was for Bernie and lost ebcause of day to day minutiae, or any of this, is simply beyond me. And this is the problem with our media coverage.
No one who actually pays attention thought Sanders had a chance in NY. Now yes, the Sanders campaign and their surrogates are paid to run out and say all sorts of shit to get out the vote and excite their voters, but that doesn't mean our press has to pretend that it is true. This kind of hack reporting causes several problems.
1.) It pushes issues and demography to the side, making them secondary and often tertiary concerns, putting primacy on the day to day bullshit and faux "gaffes" that get people all het up but that don't really swing the vote.
2.) It provides losing campaigns with irrational hope, and deflects from the general election issues that winning campaigns should focused on.
3.) It makes no mention of the ground game. I personally would like to see how many field offices each respective campaign had, and how much each campaign spent on GOTV and organizing versus media. I'd bet anything the Clinton team spent more on organizing and GOTV and the Sanders campaign just threw money at the media.
4.) It actively makes us dumber and forces us to look away from what matters and focus on horse race narratives instead of what matters.
Don't believe the bullshit. The remaining primaries where Bernie could really make up ground are Connecticut, Maryland, Pennsylvania, and California. Clinton leads by 11 in CT, 21 in Maryland, 14 points in PA, and 10 points in CA.
Does anyone besides Jeff Weaver and the Bernie diehards on social media actually think those numbers are going to change dramatically? Me either. So don't be distracted by bullshit horse race stories in the media. Vote for the person you think is best to be the Democratic nominee, and pay attention to the issues Bernie and Hillary are talking about and how they intend to approach them, and vote accordingly.
If team Obama based their campaign on "another day, another lost news cycle," we'd be nearing the end of the second McCain/Palin term. It's no way to run a campaign, and more important, it's no way to run a country.