This past week — as we Democrats were bickering over which of our two presidential candidates has the better strategy for ameliorating wealth inequality, addressing structural bias, reducing student debt and securing world peace — Republican poobahs were hearing a new campaign chief's presentation on plans to repackage the short-fingered vulgarian for general election purposes. From the NYT:
Addressing about 100 committee members at the spring meeting here, many of them deeply skeptical about Mr. Trump's candidacy, the campaign chief, Paul Manafort, bluntly suggested the candidate's incendiary style amounted to an act. "That's what's important for you to understand: That he gets it, and that the part he's been playing is evolving," Mr. Manafort said, suggesting that Mr. Trump was about to begin a more professional phase of his campaign…

"Fixing personality negatives is a lot easier than fixing character negatives," said Mr. Manafort, claiming that Hillary Clinton suffered from negative. "You can't change somebody's character. But you can change the way somebody presents themselves…"
Sorry, Republicans. There's just isn't enough lipstick in the world to beautify the oinker who is your frontrunner. Trump hasn't merely pretended to be a repulsive pig to appeal to the GOP's swinish base. He is and always has been an embarrassing, racist, chauvinist pig.
It's not like we don't know this person. Thanks to Trump's insatiable need for attention, we've been involuntary witnesses to his tacky spectacle long before he ran for president. As Jim Newell at Slate observed:
Trump believes that a woman's worth directly correlates with her looks and that a man's worth directly correlates with the eye candy on his arm.
I was struck by a similar thought the other night while watching Trump's post-NY primary victory speech, which the Beltway press deemed a magnanimous pivot to a more presidential tone. But it wasn't anything Trump said that caught my attention — it was the visual image: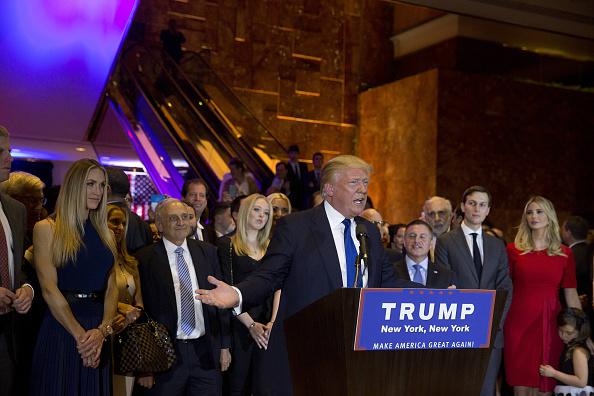 Nothing against tall, willowy, blond, white ladies who wear their hair long and part it in the middle: I was one myself before I started going grey. But can you see that photo and NOT imagine a Trump stage manager herding all the short, visibly middle-aged or portly women — if such women there be with power connections at a Trump event — to the rear of the dais, or better yet, backstage? What would it look like if Hillary Clinton tried to pull off a similar power tableau? Maybe something like this?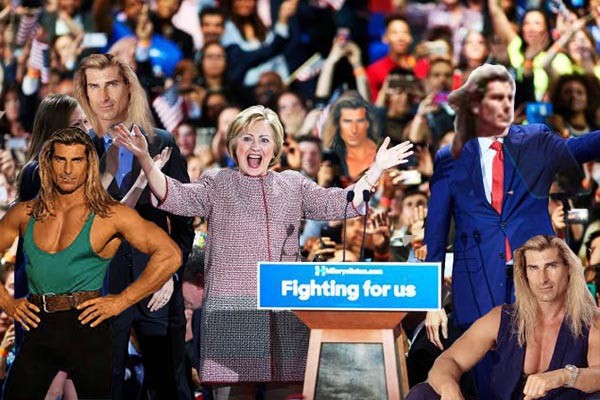 Ridiculous. Anyway, the NYT article had more on campaign chief Manafort's makeover plans:
Mr. Trump intends to deliver a foreign policy address at the National Press Club in Washington next week, Mr. Manafort said, and that he would also hold similar events to address his "gender gap."

"You'll start to see more depth to the person, the real person," Mr. Manafort continued, referring to more Trump appearances in "formal settings."
I can't wait to see what type of event these morons come up with to address Trump's gender gap issue. Maybe a Ronald Reagan Memorial Miss Republican pageant? Doesn't matter. We've seen "the real person" that is Donald Trump. And he's a pig.