Three completely unrelated topics rolled into one open thread — food first. I made this fabulous berry tart last night: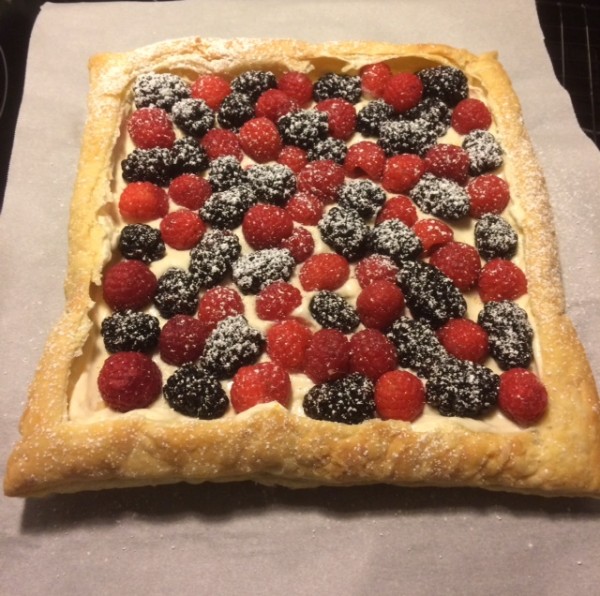 It was so good and so incredibly simple to make because you use store-bought puff pastry. It's a modification of a recipe I found here.
Here's my version:
INGREDIENTS:
1 package puff pastry
1-1/2 cups room temp cream cheese
1 orange
1/2 tsp vanilla extract
1/4 cup confectioner's sugar, plus more for dusting
1-1/2 to 2 cups berries (I used blackberries and raspberries)
DIRECTIONS:
Preheat oven to 400 F. Thaw puff pastry and unfold on a sheet of parchment paper placed on a baking sheet.Take a butter knife and score the puff pastry, creating a border about an inch from the edge in a square. Use a fork to pierce the dough inside the square only.
Bake about 12 minutes until golden brown. The middle square shouldn't rise as high as the edges because of the holes. But if it does — no worries! Just take a fork and press it down so that the inner square is recessed and the raised edges form a border. Allow to cool completely.
Meanwhile, beat the softened cream cheese, vanilla and sugar in a bowl. Zest half the orange and add the zest to the cream cheese mixture. Add a tablespoon or so of the orange juice. The consistency should be similar to icing — maybe a little thinner.
Scrape the cream cheese mixture into the middle of the pastry and spread it evenly. Top with berries and then dust with confectioner's sugar.
**************
Second topic — sports: The New York Times reports that an appeals court has reinstated New England Patriots' QB Tom Brady's four-game suspension. I find I don't give a shit about the return of Ballghazi one way or another. Others will have different opinions.
*************
And final topic, injustice: the city of Cleveland has settled with the family of Tamir Rice for $6 million. As part of the agreement, the city admits no wrongdoing. Jesus Christ. No wrongdoing? A 12-year-old kid was shot dead by a cop for playing with a toy gun.
Is there any chance this very expensive lesson for the city will have an effect on policing techniques to prevent other unjust killings? That's probably too much to hope for, despite the talk from city officials. The Tamir Rice case is just horrifying and depressing on every level.
That's all I got. Open thread!