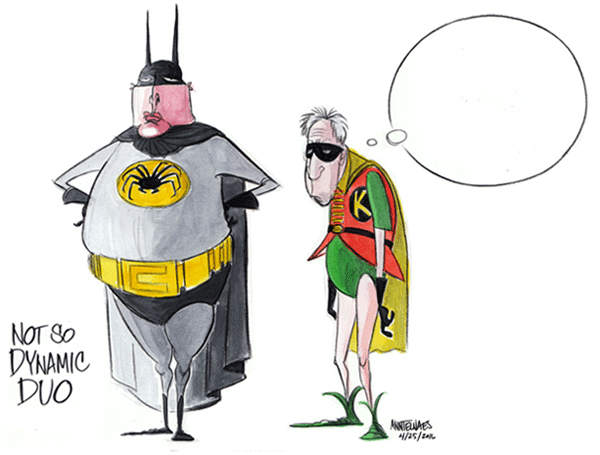 So a couple of failing enterprises combine forces in a totally legal manner to protect assets. Sounds like how Trump explains bankruptcies.

— Jon Ralston (@RalstonReports) April 25, 2016

Yeah, Politico's photo choice does kinda recall the old Adam West/Burt Ward tv show, but that was (mostly) intentional farce:
Ted Cruz and John Kasich have begun coordinating their campaign strategy to stop Donald Trump, an abrupt alliance announced Sunday night that includes Kasich quitting his efforts in Indiana and Cruz clearing a path for the Ohio governor in Oregon and New Mexico…

The new Cruz-Kasich pact is an acknowledgment that neither man can overtake Trump in the race, and both know their best shot at preventing Trump from clinching the nomination outright is to team up to block his path and force a contested convention. And it may still be too late: Trump is closing in on the number of delegates he needs to win the nomination…
One hopes, for his family's sake, that Kasich has made out a will. For once in her career, Jen Rubin may actually be correct:
…[I]t emphasizes the degree to which the most likely alternative to Trump — Cruz — has failed to unite the GOP… The consolation for Cruz is that news of the pact will overshadow and help put in perspective expected losses tomorrow in all the primary states.

Cruz's perceived weakness in turn leads to another unintended consequence of the deal: It will heighten interest in a third candidate. It is now evident that neither Cruz nor Kasich is a sterling candidate. The odds of a Trump nomination are high, so shouldn't backers of a third candidate get cracking?

The pact likewise opens the door to other candidates entering or reentering the race in Cleveland. Essentially the pact is recognition that the party has failed to come up with a single not-Trump alternative. If so, why then not try someone else who might unite the party?…
Yeah, I said she was correct in her assumptions, not that I think bringing in a a 'third' (fourth? third-and-a-half?) candidate would do anything more than further roil the RNC convention waters. I'm just happy it's not us Democrats' problem to settle!
***********
Apart from popcorn, what's on the agenda for the evening?