This story is a perfect example of a truly elegant con.  On one side, the marks:  suffering, credulous, and primed to both reject and crave authority.  On the other, the grifters, offering valiant rebellion against the establishment, all the comfort of faith, and the knowledge that the truly dedicated marks will become repeat customers.
Ladles and jellyspoons, I give you pastoral medicine!
You've probably heard of the credentials M.D. and R.N., and maybe N.P. The people using those letters are doctors, registered nurses and nurse practitioners. But what about PSC.D or D.PSc? Those letters refer to someone who practices pastoral medicine — or "Bible-based" health care.

It's a relatively new title being used by some alternative health practitioners. The Texas-based Pastoral Medical Association gives out "pastoral provider licenses" in all 50 states and 30 countries. Some providers call themselves doctors of pastoral medicine.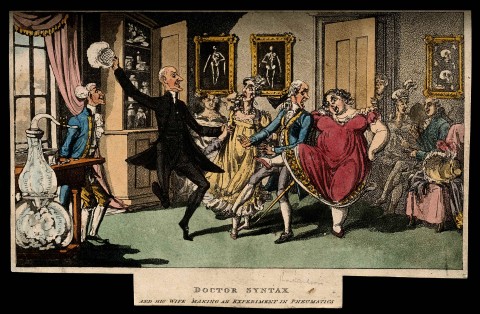 And how do these fine practitioners roll?
[Stephen] Barrett [a retired psychiatrist and founder of the consumer protection siteQuackwatch.org] says the Pastoral Medical Association functions like a private club. Patients sign confidentiality agreements, pay out of pocket and are prohibited from suing if they're unhappy with the care they receive. Any disputes are handled by an ecclesiastical tribunal.

"They're claiming that 'Any advice we give you is pastoral in nature,' " Barrett says. "In other words, 'If I give you health advice that's not health advice, that's pastoral advice.'
The article goes on to dig up one person who felt helped by her pastoral "advisor" — a woman who believed "heavy metal detox, special diet and herbal supplements helped her lose weight and gain energy."  And good for her! I'd hope she'd derive some comfort from her ~$5,000 donation to what the Pastoral Medical Association calls "the Almighty's Health Care workers."
A closing thought.  In the deregulated paradise sought by the Republican party and its Koch and Koch-esque paymasters, there's no problem with such charlatanism.  Let people put their money where they like, regulatory oversight be damned, and let the market (and morbidity/mortality outcomes) decide the matter.  That sick people might not be fully at liberty to exercise their function as a homo economicus is somebody else's problem.
Which is to say — this particular grift takes the form of the familiar American religious confidence game that has taken in its suckers since before the birth of the Republic.  At the same time, it's a pretty good proxy for the long con being run on too many Americans by the folks who have come to use the Republican Party as its front.
Image:T. Rowlandson after W. Combe, Doctor and Mrs. Syntax and a Party of Friends Making an Experiment in Pneumatics, 19th c.