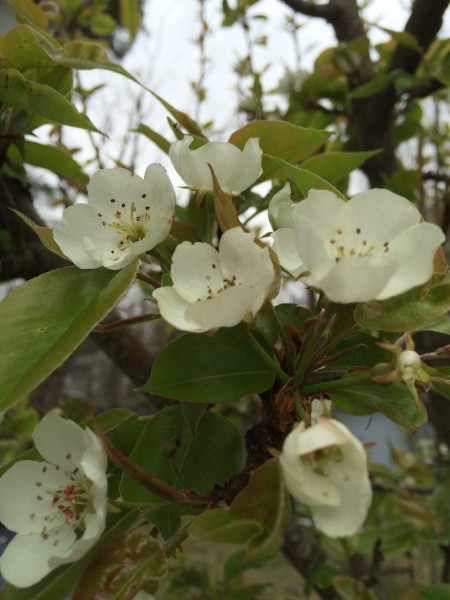 From west-of-Boston gardener Currants:
It's been chilly the last few mornings, but no frost (the bane of fruit blossoms) so far. Our pear, crab and viburnum came with the house — I have no idea what varieties they are (but the pears [photo at top], when we get them — roughly every other year — are delicious).

(Viburnum)

I've been doing stuff in the dirt, but thought I'd send photos of what's going on above ground. That said, what's in the dirt is pretty exciting. I've put in some newcomers: asparagus and blueberries.


(Soon to be asparagus)

Oh, and black currant shoots–they're sprouting (next year they'll be transplanted from the garden to their forever homes, some in exchange — along with rhubarb and raspberries — for a couple heirloom apple trees).

And ramps! They were my great find at the New England Wildflower Society. I planted them in two locations as trials for this year–next spring we'll see whether and how well they survived.

Otherwise, the garlic looks great (and is already delicious chopped and scrambled with eggs), and the wintered kale needs picking. The early strawberries have blossoms, as do the pear and crab apple (neither of which got pruned this year). The lilac has buds, we're harvesting a tiny bit of asparagus from the old bed, and the perennial herbs are in full swing (chives, parsley, tarragon, sage, thyme–even the self-seeding cilantro has started appearing again). I never got around to ordering tomatoes, and since we'll be away when I usually plant them I'm still trying to decide what to do about that.


( Great garlic! Source: Fedco in Maine)

So that's spring here, and I'm grateful that this year it's slow and cool, mostly, or all that digging would be pretty miserable.
***********
Confession, I have been a total sloven about the garden cleanup this spring… and the mild winter didn't mean any less detritus to rake up / cut back / root out. The daffodils in the front yard are mostly done blossoming, but the Siberian irises are finally starting to bud. The creeping phlox and iberis in the front-yard raised beds are gorgeous foams of blossom. And yesterday the first lilac blooms opened, yay! So I've got some incentive to get out there and put in some sweat equity.
What's going on in your garden (planning) this week?