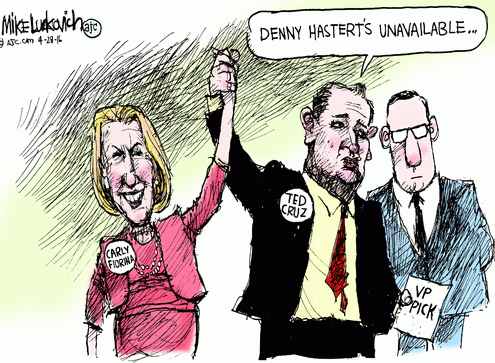 So the analysts have spoken, and boy are they not impressed. Ed Kilgore, at NYMag, "Cruz Names Fiorina As Veep Pick — Smooth Move or Last Gasp?":
… The only other time a presidential candidate has announced a running mate before winning the nomination was famously in 1976, when Ronald Reagan announced Pennsylvania senator Richard Schweiker as his veep choice before the Republican Convention in Kansas City. That, however, was three weeks prior to the August convention, not in April…

…[I]t's not clear that Fiorina (who endorsed Cruz some time ago) will help him much in her "home state" of California. In her one political race prior to 2016, she lost to Barbara Boxer by ten points in the wildly pro-Republican year of 2010, though she did win the GOP nomination handily over mispositioned centrist U.S. representative Tom Campbell and conservative firebrand Chuck DeVore (Campbell was the target of the famous "demon sheep" ad crafted for Fiorina by consultant Fred Davis, who is now on John Kasich's team). She immediately moved away from the scene of the political accident, relocating to a gated community in a suburb of that well-known entrepreneur's paradise, Washington, D.C…
Let no one say Cruz didn't get to run the Reagan '76 reenactment campaign he wanted

— Alex Burns (@alexburnsNYT) April 27, 2016
Simon Maloy, at Salon, "The way Ted Cruz made the "solemn choice" of picking a running mate reveals how awful a president he would be":

… "When you run for president," Cruz told the crowd, "one of the most solemn choices you make is the choice of selecting a vice presidential candidate." It requires trust, Cruz said, and "any responsible candidate for president would have spent much time assessing possible candidates, thinking through the pros and cons, studying who these people are." Cruz's campaign reportedly initiated its vice presidential search two weeks ago. We learned only on Tuesday that Fiorina had submitted tax returns to the campaign for scrutiny. By contrast, Mitt Romney spent three months putting a number of potential candidates through an exhaustive screening process before selecting Paul Ryan as his running mate. In 2008, Barack Obama launched his VP search in May and ended up selecting Joe Biden in late August after an intense two-month vetting process. It fractures credulity for Cruz to argue that he arrived at this decision after having considered all the options and conducted all the proper inquiries…

One of the chief knocks against Cruz is that he's bloodless in his ambition and willing to do anything to secure his own political fortune. Picking a vice presidential nominee three months before the nominating convention and the day after he received a thorough drubbing that mathematically eliminated him from securing a delegate majority does a nice job of confirming that criticism.
Jim Newell, at Slate, with the most reasonable guess — "Carly Fiorina is Trump bait":
… If the Cruz campaign is lucky, the Fiorina selection will provoke Trump into saying or doing something egregiously sexist before May 3. For Trump, the only thing standing between him and the nomination may be his ability to avoid that simple trap. Will he be able to do it?… Fiorina enjoys going after Trump, and she will try her hardest to get Trump to break through whatever paper-thin filter Paul Manafort has worked tirelessly to install.

Will it work? So far Trump has shown surprising restraint in responding to the announcement. "I think it's really a waste of time, honestly," he told Fox News on Wednesday night about the Cruz campaign's rollout. Even Trump sees this move as too desperate to require the usual string of insults—for now. His mind could change. The bars are always set so low for Trump to prove his "presidential" qualities. Can he make it through next Tuesday without calling Carly Fiorina ugly? is this week's painfully, embarrassingly low bar.
Jeet Heer, at TNR, "Cruz and Fiorina's Faux Feminism":
… To some degree, Fiorina is playing the same game that Sarah Palin did as John McCain's running mate in 2008: trying to be a gender pioneer while also assuaging the worries of social conservatives. But this curious mixture of feminism and anti-feminism takes on a sharper edge in the age of Trump and Clinton. Fiorina and Cruz are trying to separate themselves from both the toxic masculinity of Trump and the embrace of liberal feminism by Clinton. Part of the political problem they might face is that no such middle ground exists. With Trump and Clinton offering starkly competing gender politics, there's no longer a constituency for the "she's strong, but she's a lady" compromise offered by Cruz and Fiorina. Indeed, it might be that there was never much of a market for such a clearly conflicted position to begin with.
Of course I'm sure Cruz will treat Fiorina with all the respect he shows the other women in his life, lest he damage his own image…
This year political satire reads like a documentary of the campaign. https://t.co/fhdd8y4Hef

— Jim Antle (@jimantle) April 28, 2016
@Rschooley pic.twitter.com/MKkH5Sr75j

— Bob Schooley (@Rschooley) April 27, 2016