The invaluable Charles Pierce on Donald Trump's distinct political superpower:
It was Jeb (!) Bush who learned the second-worst thing for a candidate to be if he's running against He, Trump—which is a humorless, privileged fop. The worst thing to be is what the Tailgunner was—a self-important dweeb with delusions of sacred grandeur. In both cases, you are a big bag of hot air in search of a needle. That is He, Trump's only consistent political skill. No wonder Tom Brady loves him. Nobody is more skilled at deflating people than He, Trump.
I'd add — it's hard for me to read this as anything but Barack I'm-So-Going-To-Miss-This-President Obama's parting gift to that self important dweeb with delusions of sacred grandeur:
The White House is considering the creation of a national monument to the gay rights movement on a small piece of Greenwich Village parkland across the street from the Stonewall Inn, where a 1969 uprising helped inspire the push for equality, advocates said on Tuesday.
I know, I know. Not a done deal yet; just kicking the tires; who thought to get this out there today…
But still, even if it is a coincidence (and I'm really not sure that it is), a fine story becomes that much sweeter juxtaposed with Torquemada Cruz (you can't torque 'em ada anything) on the occasion of his exit, stage far right.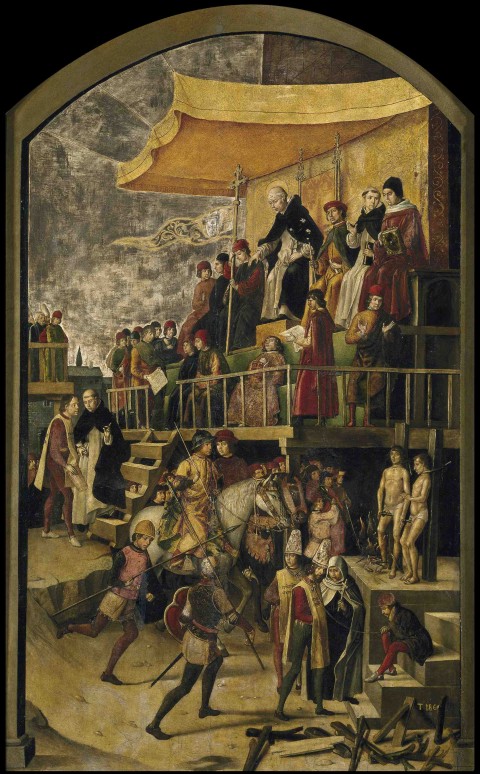 So yeah, while as many here have noted, Trump is a terrifying existential threat to the idea of the Republic, I still get some naches any day that Ted Cruz gets his comeuppance upside and down.
Open, the thread, it is.
Pedro Berruguete, Saint Dominic Presiding Over an Auto-da-fe, 1495