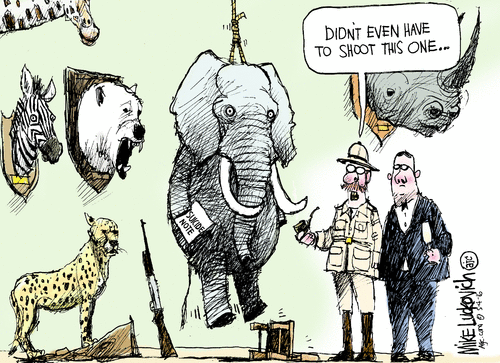 Professor Krugman, in the NYTimes, on "The Making of An Ignoramus":
… Last week the presumptive Republican presidential nominee — hard to believe, but there it is — finally revealed his plan to make America great again. Basically, it involves running the country like a failing casino: he could, he asserted, "make a deal" with creditors that would reduce the debt burden if his outlandish promises of economic growth don't work out…

So why is Mr. Trump even talking about this subject? Well, one possible answer is that lots of supposedly serious people have been hyping the alleged threat posed by federal debt for years. For example, Paul Ryan, the speaker of the House, has warned repeatedly about a "looming debt crisis." Indeed, until not long ago the whole Beltway elite seemed to be in the grip of BowlesSimpsonism, with its assertion that debt was the greatest threat facing the nation.

A lot of this debt hysteria was really about trying to bully us into cutting Social Security and Medicare, which is why so many self-proclaimed fiscal hawks were also eager to cut taxes on the rich. But Mr. Trump apparently wasn't in on that particular con, and takes the phony debt scare seriously. Sad!…

The important thing to realize… is that when Mr. Trump talks nonsense, he's usually just offering a bombastic version of a position that's widespread in his party. In fact, it's remarkable how many ridiculous Trumpisms were previously espoused by Mitt Romney in 2012, from his claim that the true unemployment rate vastly exceeds official figures to his claim that he can bring prosperity by starting a trade war with China.

None of this should be taken as an excuse for Mr. Trump. He really is frighteningly uninformed; worse, he doesn't appear to know what he doesn't know. The point, instead, is that his blithe lack of knowledge largely follows from the know-nothing attitudes of the party he now leads.

Oh, and just for the record: No, it's not the same on the other side of the aisle. You may dislike Hillary Clinton, you may disagree sharply with her policies, but she and the people around her do know their facts. Nobody has a monopoly on wisdom, but in this election, one party has largely cornered the market in raw ignorance.
***********
Apart from that, what's on the agenda as we start another week?
Gallup shows Obama's support at highest point since Jan '13 — three points higher than Reagan at this point in '88 pic.twitter.com/8xEQKrB2Hw

— Steve Benen (@stevebenen) May 8, 2016