Adding to Anne Laurie's post a bit ago, here is this piece from downstate, which honest to goodness is a different country from the northern panhandle where I live:
The West Virginia Senate candidate who was attacked at a cookout over the weekend said Monday that he's known his alleged assailant since they were kids.

Jonathan Porter, 41, faces charges of malicious assault, attempt to commit a felony and destruction of property in the beating of Richard Ojeda, who's running against state Sen. Art Kirkendoll, D-Logan, in today's Democratic primary.

Ojeda said he was at a cookout in the Whitman area of Logan County at about 11:30 a.m. Sunday when Porter, whom he hadn't seen in years, attacked him.

Porter, who lives in the Whitman Creek area, turned himself in around 6 p.m. Sunday, according to State Police Trooper Z.S. Holden.

In an interview from his hospital room at Charleston Area Medical Center's General Hospital on Monday, Ojeda said Porter showed up at the cookout and told the candidate he wanted a bumper sticker.

"I've known him since I was like around 7," Ojeda said. "We grew up in the same hollow."

Ojeda, who spent 24 years in the U.S. Army, said he stuck a bumper sticker on the back of Porter's truck, then Porter said he wanted a bumper sticker on the front of his truck, too.

"I didn't realize, what he was doing was luring me around to the other side of the truck, where he could be blocked [from] everyone at the picnic," Ojeda said.

Ojeda said that when he knelt over to place the bumper sticker on the truck, Porter repeatedly kicked him in the head, then got something out of the truck. Other people at the cookout told him they saw Porter hit him in the head with brass knuckles. Another person thought Porter used a hammer.

"All I know is, I woke up with my head on a tree stump covered in blood and I just kept going in and out of consciousness until I got to the hospital," Ojeda said.

People at the picnic also told Ojeda that Porter tried to run him over with his truck. They said Porter fled after striking two side-by-side vehicles.

Ojeda said he believes the attack was politically motivated. Since he hadn't spoken to Porter in years, he believes someone else put Porter up to it.

"I can't accuse anybody directly; I don't have the facts," Ojeda said, "but I will tell you I don't see any other reason why this would happen, other than it being political."

He said he has been very vocal about the sentences for those involved in the Mountain Laurel Mining Complex kickback scheme, including that of Alvis Porter, Jonathan Porter's uncle.

In May 2014, prosecutors charged 10 people in what they described as a widespread scheme that forced companies to pay kickbacks to obtain contracts at the mine.

David Runyon, the general manager, was charged with one count each of extortion and tax evasion. Alvis Porter, of Holden, a former Logan County circuit clerk and the owner and operator of Southern Construction, was charged with failing to pay trust-fund taxes of his employees. He also admitted to paying about $400,000 in kickbacks to Runyon.

In February 2015, Porter was sentenced to three years probation for failing to pay employment taxes. He also agreed to forfeit $350,000 and pay the IRS nearly $27,000.

"It shows that we have a double standard," Ojeda said. "These people who are rich and powerful and politically connected are able to get away with anything."

Alvis Porter's wife, Nikki, recently donated $1,000 to Kirkendoll's re-election campaign, according to financial disclosures. Jonathan Porter's brother, Harold, is running as a Democrat for Logan County assessor.

Ojeda said he is known for being vocal about corruption in Logan County.
Logan County is south of Boone County (infamous for Jesco White) and north of Mingo, nw of McDowell County.
Here are some visual aids that will speak a thousand words.
A map of WV: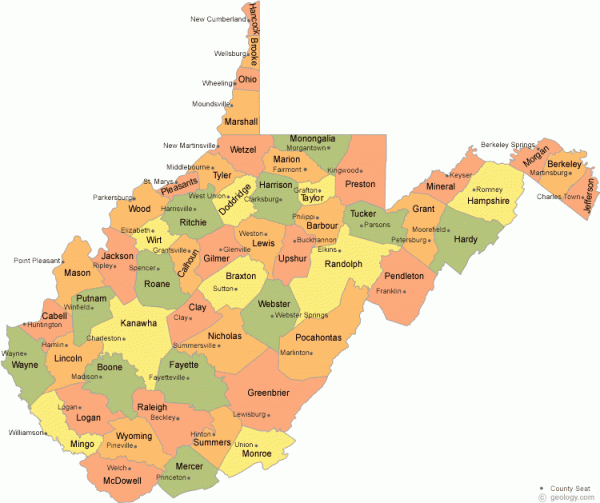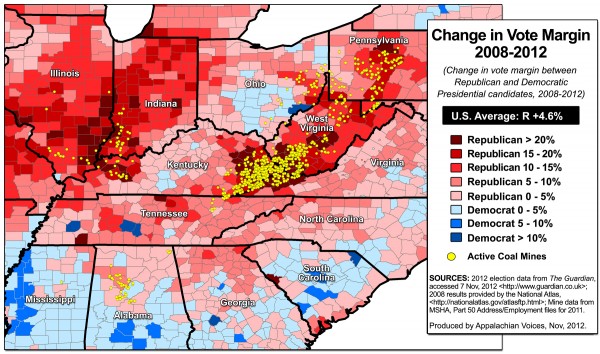 Child poverty: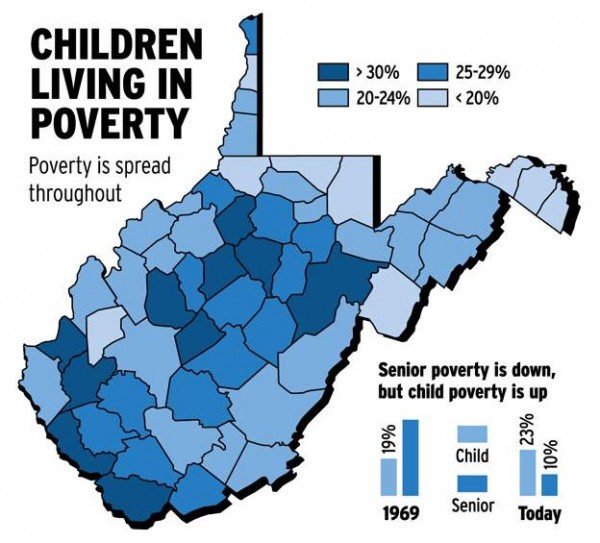 And on and on. Basically every statistic is bad.
This is Trump Country. This is Coal country. This is gods, guns and hating on the gays country. Most who are Democrats here would be considered frothing right wingers anywhere outside of Appalachia. Here's a scandal from the Bush years:
During the 2004 election season in the town of Logan, West Virginia, the Federal Bureau of Investigation (FBI), in a controversial move, had four-term mayor Thomas Esposito run for the West Virginia House of Delegates in order to ferret out corruption in Logan County politics. Officials in neighboring Lincoln County, West Virginia were also charged

Esposito was a prominent criminal defense attorney and four-term Mayor of Logan who was directed to buy votes by the FBI and implicate as many local politicians as possible in a Federal probe directed by Assistant U.S. Attorney R. Booth Goodwin II. In the end, Esposito was directed to pull out of the race before the general election and pleaded guilty to a single charge of misprision of a felony, putatively for bribing Logan County, West Virginia magistrate, Danny Wells, who himself received a nearly eight-year Federal sentence for his own bribery and extortion charges. Esposito himself was merely disbarred and served two years of probation. He is considered to have bribed Wells by paying off his $6500 bar tab.[2] Others charged with crimes as a result of the sting

Other public figures were charged with federal crimes and forced to resign. The following men were implicated in the sting:

Logan County Clerk Glen Dale "Houn' Dog" Adkins admitted he sold his vote for $500 in 1996.

Perry French Harvey, Jr., former UMWA official pleaded guilty to conspiring to bribe voters.

Ernie Ray Mangus was granted immunity against the charge of receiving $1,000 to buy votes in exchange for his cooperation.

"Big" John Mendez, Sheriff of Logan County, was compelled to resign and is never allowed to run for public office again.

Lincoln County Circuit Clerk Greg Stowers entered a guilty plea to a federal vote-buying charge in a probe directed by Assistant U.S. Attorney Karen George.

Logan police chief Alvin "Chipper" Porter Jr. and Logan VFW president Ernest Stapleton both entered related guilty pleas.
Booth Goodwin is now running for the Democratic nomination for Governor, running in a three way race against Jeff Kessler and Jim Justice, a coal baron. He'll probably split the vote with Kessler (who I voted for) and Justice will be the nominee, which will be a fucking shame, but he'll still be better than Bill Cole.
Also notice Alvin Porter again. But white people in WV will act all shocked when black people vote for Marion Berry.